Description
Note: This project kit is designed based on Malaysia Primary School Standard 5 RBT textbook and it is in Bahasa Malaysia, so the description is in Bahasa Malaysia too.
Note: Ordering in bulk for School? We accept PO/LO too, talk to us here.
---
Ini adalah satu kit pembelajaran STEM (Sains, Teknologi, Kejuruteraan, dan Matematik). Kit ini adalah berdasarkan Projek Pagar Keselamatan yang merupakan salah satu projek dalam subjek Reka Bentuk Teknologi Tahun 5. Kit ini mengandungi komponen-komponen elektronik yang diperlukan untuk para pelajar mula membina projek-projek menarik dengan elemen interaktif seperti bunyi, cahaya dan gerakan. Ianya sesuai untuk pelajar-pelajar belajar tentang pengaturcaraan elektronik, papan mikropengawal, dan peranti 'input/output' menggunakan papan Maker UNO.
Maker UNO ialah satu papan mikropengawal yang berkemampuan untuk menerima input, memproses, dan mengeluarkan output. Para pelajar boleh memuat turun aturcara (program/code) ke dalam papan Maker UNO untuk mengawal peranti elektronik seperti LED, motor servo, dan sebagainya. Maker UNO adalah satu papan mikropengawal serasi Arduino UNO, lengkap dengan LED, pembaz, dan butang yang boleh diaturcara.
Dengan adanya papan Maker UNO dan wayar mikro USB, para pelajar boleh mula memasang dan mengaturcara komponen-komponen elektronik untuk projek pagar keselamatan. Untuk kemudahan anda, komponen-komponen elektronik dan perkakasan yang diperlukan untuk membina projek seperti perintang, motor servo, suis tekan, LED dan sebagainya, juga tersedia dalam kit ini.
Nota: Projek ini boleh dikuasakan dengan Bank Kuasa (power bank).
Untuk pengetahuan anda, kotak kit ini telah direka khas untuk kegunaan projek pagar keselamatan. Ia mempunyai bahagian yang boleh dipotong untuk memuatkan suis tekan, motor servo, wayar untuk modul lampu isyarat dan juga palang! Menarik, bukan?
Nota: Kit ini didatangkan dengan komponan-komponan yang belum dipasang, sila rujuk kepada buku panduan untuk pemasangan.
Kit ini juga didatangkan dengan sebuah Buku Panduan Kit RBT Tahun 5 untuk rujukan para guru dan juga pelajar. Panduan lengkap dan berwarna tentang sambungan komponen elektronik dan pengaturcaraan menggunakan aplikasi mBlock akan membantu anda membina projek RBT tanpa perlu bersusah payah!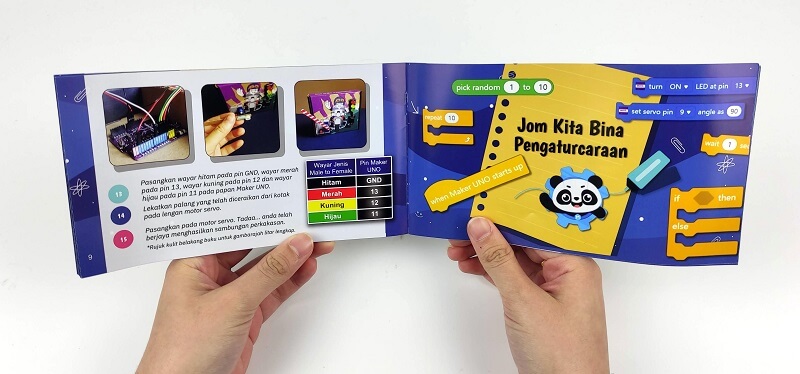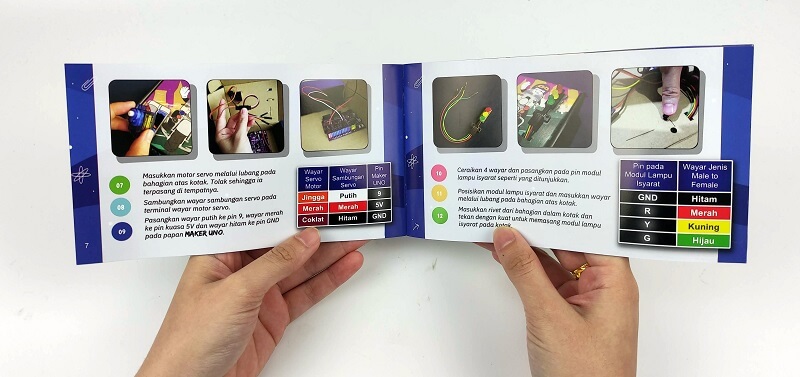 Meneroka projek-projek tambahan dengan Kit RBT Maker UNO ini.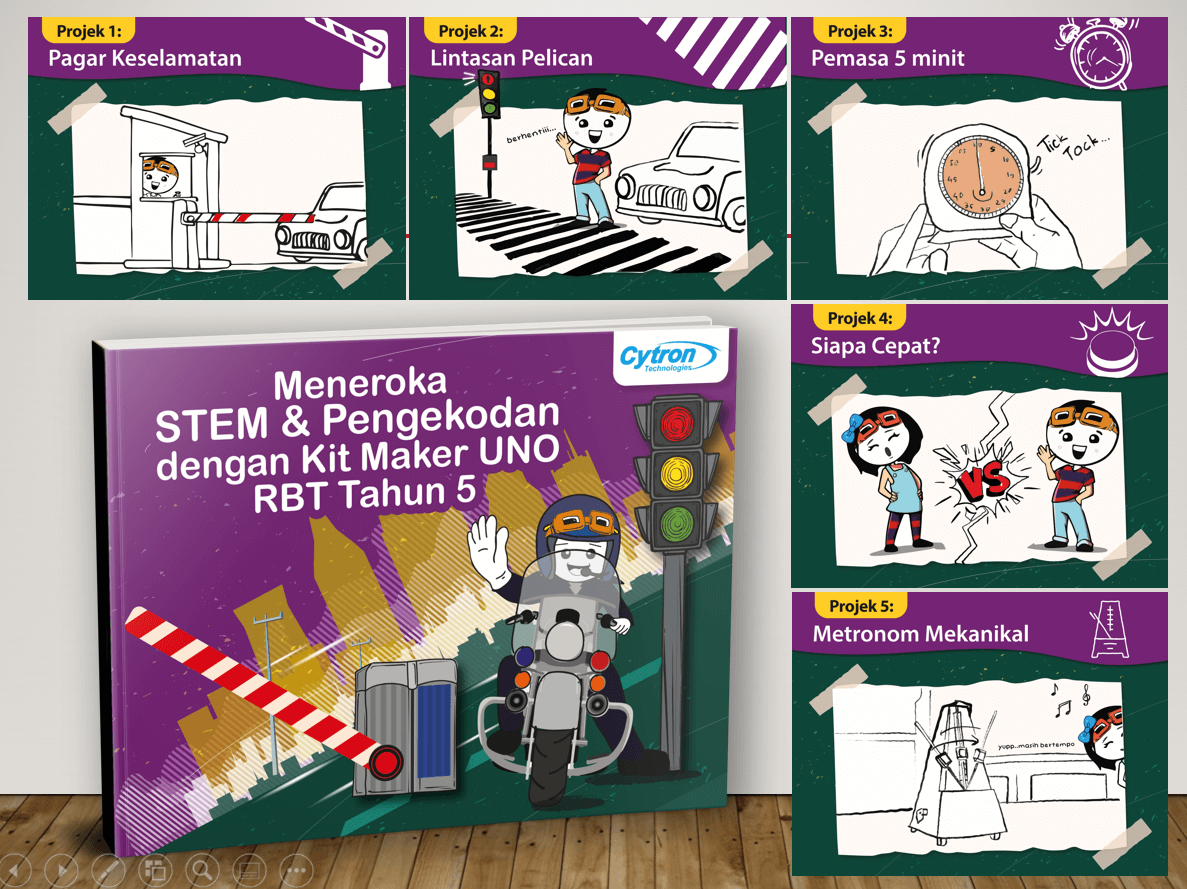 Senarai pek:
Dokumen / Bahan Rujukan:
YouTube video bersama Cikgu: