Note: This page offers a few options for PIUNORA Carrier board and kit with Raspberry Pi Compute Module 4 (Wireless, 4GB RAM, 16GB eMMC). Please choose the preferred option:
Note: For the kit/s, an UK plug (Type G) power adapter is included, it is suitable for Malaysia and Singapore.
Note: The Official Power Supply Unit (PSU) will be either in Black or White Color depending on availability.
---
PIUNORA Carrier Board
We have included the PIUNORA Carrier Board for the CM4 Wireless module. It enables you to get started with the Raspberry Pi CM4.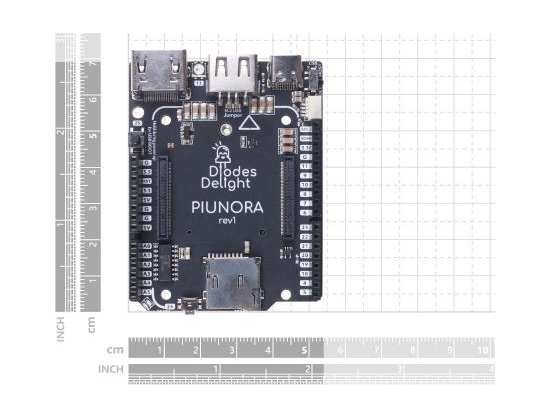 Piunora is a compact, easy-to-use development board for electronics prototyping with Linux. It has a familiar form factor, legible pin labels, and a design that's well suited to space-constrained applications. As a carrier board for the Raspberry Pi Compute Module 4 (CM4), Piunora is essentially a tiny version of the Raspberry Pi 4 Single Board Computer (SBC) with added flexibility to accommodate custom form factors.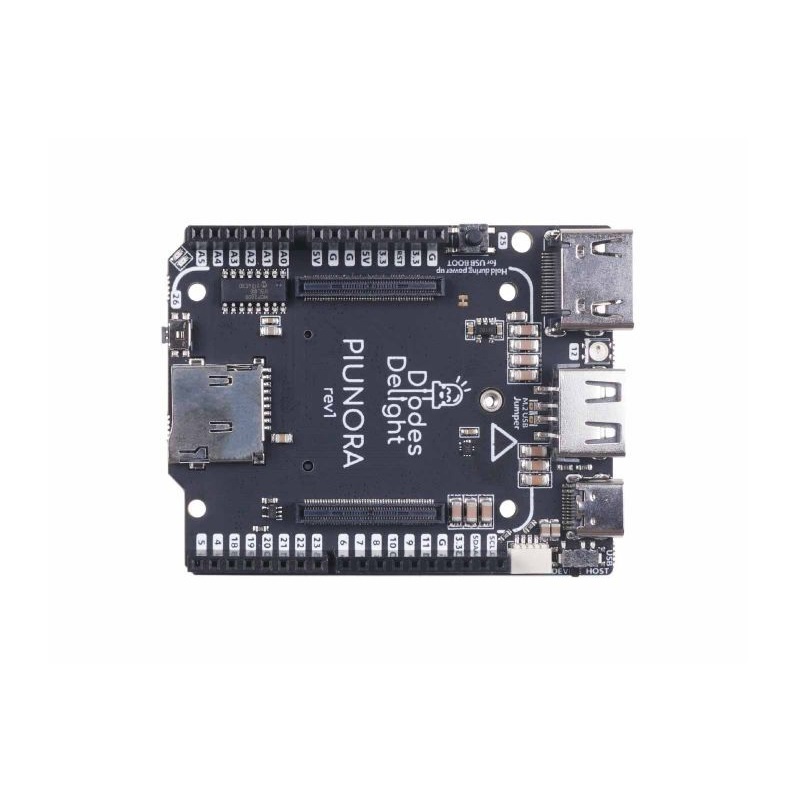 In a limited space, the board has been designed to pack with powerful peripherals for rapid prototyping and embedded machine-learning applications. Piunora is open hardware that both the design files and the software is published here.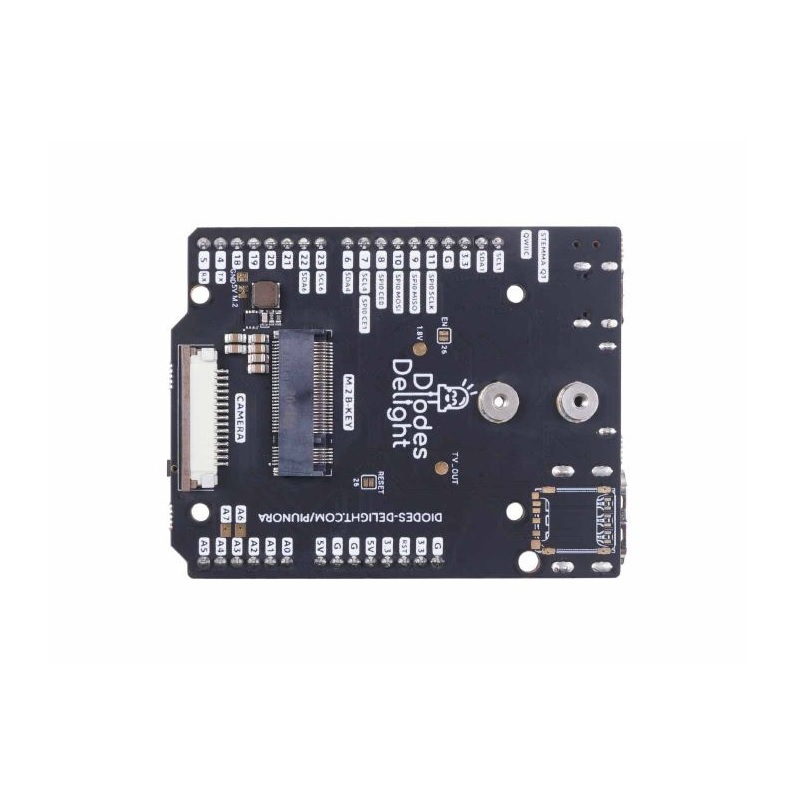 The board comes with:
1 x USB-C port for power, and data to load the OS image into the eMMC (for CM4 with built-in eMMC)
1 x Slide switch to configure USB-C's USB mode
1 x USB2.0 Type-A port
1 x Full-Size HDMI 2.0 port
1 x CSI camera-input connector
1 x PCI-e bus which is being breakout into an M.2 B-Key port on the rear of the board. The M.2 B-Key port is not only useful for (NVMe) SSD storage, but it can also host a diverse range of PCI-e expansion boards. 

Support M.2 2242 or 2230 Module

1 x Qwiic/Stemma QT port
2 x Push Buttons (programmable)
2 x Indicator LEDs (Power and Activity)
1 x RGB LED (programmable)
1 x MicroSD Card slot (push latch push release)
GPIO breakout into Arduino UNO form factor
1 x MCP3008,  ADC IC that enables Analog Input right out of the box (with Piunora Image)
1 x CSI port, at the rear of the board
2 x CM4 100-pin socket for stacking CM4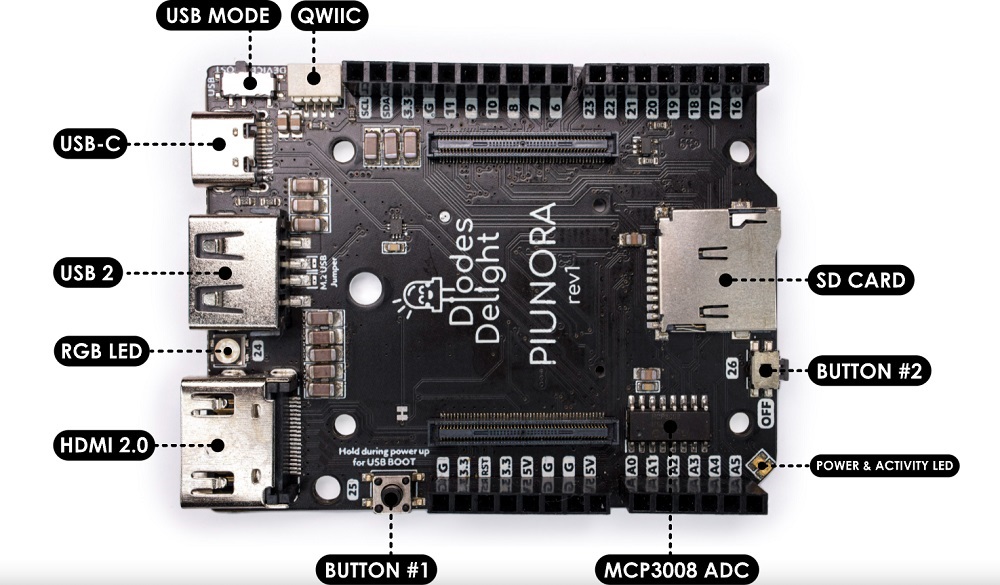 It's worth noting that, Piunora is open hardware, fully compatible with Raspberry Pi CM4, as long as that software accounts for the hardware peripherals in use. It allows you to utilize the huge collection of existing drivers for the ecosystem and enables you to develop embedded applications using Piunora as easily as possible.
Piunora is an ideal solution for working with Electronics, where it contains Adafruit and SparkFun developed Qwiic/StEMma-Qt compatible connectors to connect hundreds of high-end sensors quickly and easily through daisy-chain IIC devices via Python. The board includes a Type-C port that can support a power supply and USB 2.0 data transmitting. It consumes less power than the full-featured Raspberry Pi 4 and it can directly be programmed by CircuitPython through a compatibility layer - Adafruit Blinka on Linux SBCs. Additionally, there is an M.2 B-Key connector that it provides a perfect interface for a more compact style of add-on board which means it can be utilized to develop a simple, space-efficient, USB-enabled MCU solution.
Raspberry Pi Compute Module 4
Compute Module 4 is officially launched on 19th October 2020 with the same or better spec, and there are 32 variants of the module to choose from. This product page lists Compute Module 4 which comes WITH Wireless (WiFi and Bluetooth), 4GB RAM, and 16GB eMMC.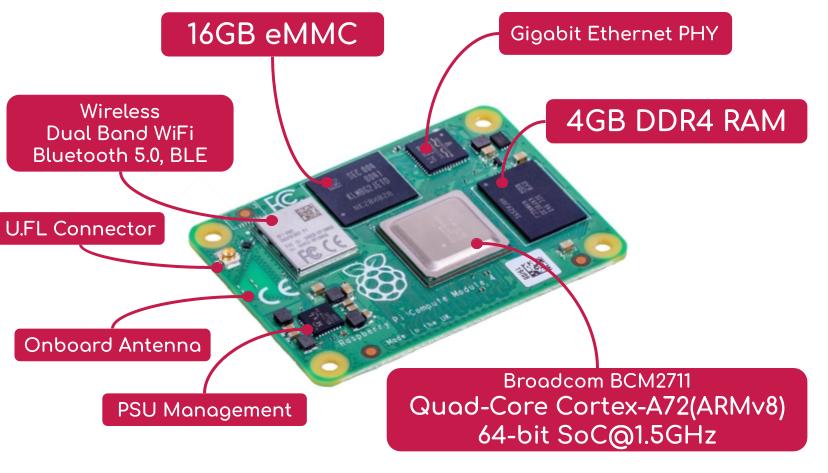 The Raspberry Pi Compute Module 4 (CM4) and Compute Module 4 Lite (CM4Lite) are loosely based on the Raspberry Pi 4B. The CM4 has an option for cost-sensitive applications to be supplied without the eMMC fitted; this version is called the CM4Lite. The form factor of the new CM4 and CM4L is different from previous Compute modules, which have all shared a form factor. The change is due to the addition of new interfaces; a second HDMI, PCIe, and Ethernet. The addition of these new interfaces, especially PCIe, would not have been possible while preserving the older form factor. Instead, the electrical interface of the CM4 is via two 100-pin high-density connectors. While the switch to a newer form factor has allowed a reduction in the footprint. The total footprint of the CM4, including the socket, is smaller with the new form factor design.
The back of CM4. The electrical interface of the CM4 is via two 100-pin high-density connectors at the back of the PCB.
Here is the top view of CM4 with Wireless and onboard eMMC:
Compute Module 4 with built-in Wireless and eMMC
Using CM4 with eMMC (Flash the OS):
Power Off the Piunora carrier board. Unplug the micro SD card if there is any.
Mount the CM4 (with eMMC) on the Piunora board. CAUTION: be careful of the CM4 position, align the CM4 layout corner marks and holes, otherwise CM4 or Piunora would get damaged
Make sure the USB mode slide switch is in the DEVICE position.
On PC, install and launch raspberry pi usbboot, refer to the official guide on flashing OS into CM by Raspberry Pi.
Connect Piunora with a USB-A to USB-C cable to the PC. (a USB-C to USB-C cable may not work)
Then an external disk like a Pendrive, aka USB mass storage, would show up on the PC, write this disk with OS image with Raspberry Pi Imager.
After the image is written and the external drive is umounted from the PC, disconnect Piunora from the PC.
Push the USB mode slide switch to the HOST position.
Plug Other devices you may need such as HDMI, Ethernet, and USB Keyboard.
Power Piunora with a 15W USB-C power supply. With the power indicator LED on, you are good to go. Enjoy & have fun.
Or you can check this video by Shotoku Tech:
Of course, you can also check out these accessories in case you do not have one:
Features and Spec:
Piunora Carrier Board:

Arduino UNO R3 / Adafruit Metro compatible form factor (3.3V IO logic, may not be compatible with all Shields)
PCI-e through M.2 B-Key connector on the rear of the board with dedicated 3.3VDC / 3 A supply

The M.2 B-Key DOES NOT support M.2 SATA SSD drive
The M.2 B-Key supports M.2 NVMe SSD drive

Analog to Digital Converter (MCP3008)
On the fly switching between USB host (USB Type-A) and device mode (USB Type-C)
Qwiic/Stemma QT connector to easily interface with I²C devices
A full-sized camera connector (CSI) that supports all Pi-compatible cameras
A full-sized HDMI 2.0 port
A WS2812(Neo-Pixel) Smart RGB LED for user status
Optional Wi-Fi or eMMC options depending on your choice of CM4
Slim design measuring 11-13 mm
Two user-controllable buttons (including software that turns one of them into a safe-shutdown button)
Piunora is open hardware, please get the documentation here.
Power Input: 5V, via USB-C receptor
CM4 Wireless, 4GB RAM, 16GB eMMC:

Processor: Broadcom BCM2711, Quad-core Cortex-A72 (ARM v8) 64-bit SoC @ 1.5GHz
H.265 (HEVC) (up to 4kp60 decode), H.264 (up to 1080p60 decode, 1080p30 encode)
OpenGL ES 3.0 graphics
4GB LPDDR4-3200 SDRAM
 16GB eMMC Flash memory

Peak eMMC bandwidth 100MBytes/s (four times faster than previous Compute modules)

built-in Fully certified radio module with :
◦ Dual-band WiFi: 2.4 GHz, 5.0 GHz IEEE 802.11 b/g/n/ac wireless
◦ Bluetooth 5.0, BLE
◦ Onboard electronic switch to select between external or PCB trace antenna
Gigabit Ethernet PHY supporting IEEE 1588
1 x PCIe 1-lane Host, Gen 2 ( 5Gbps )
1 x USB 2.0 port ( highspeed )
28 x user GPIO supporting either 3.3V or 1.8V signaling and various interface options:

Up to 6 x UART
Up to 6 x I2C
Up to 5 x SPI
1 x SDIO interface
1 x DPI (Parallel RGB Display)
1 x PCM
Up to 2 x PWM channels
Up to 3 x GPCLK outputs

2 x HDMI 2.0 ports (up to 4kp60 supported)
MIPI DSI:

1 x 2-lane MIPI DSI display port
1 x 4-lane MIPI DSI display port

MIPI CSI-2:

1 x 2-lane MIPI CSI camera port
1 x 4-lane MIPI DSI camera port

1 x SDIO 2.0 (CM4Lite only)
Single +5VDC Power Supply Unit input
Small Footprint 55mm x 40mm x 4.7mm with 4 x M2.5 mounting holes

Packing List:
Raspberry Pi CM4 Wireless 4G RAM 16G eMMC with PIUNORA Kit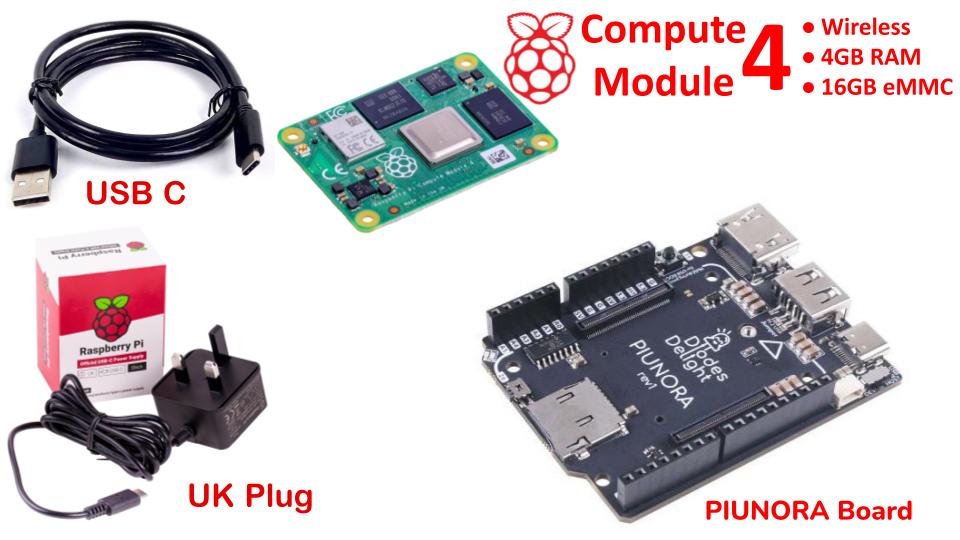 PIUNORA Raspberry Pi CM4 Carrier Board

1 x Piunora Raspberry Pi CM4 Carrier Board
1 x footers, 4 in a set
2 x small Philips screw for M.2 module mounting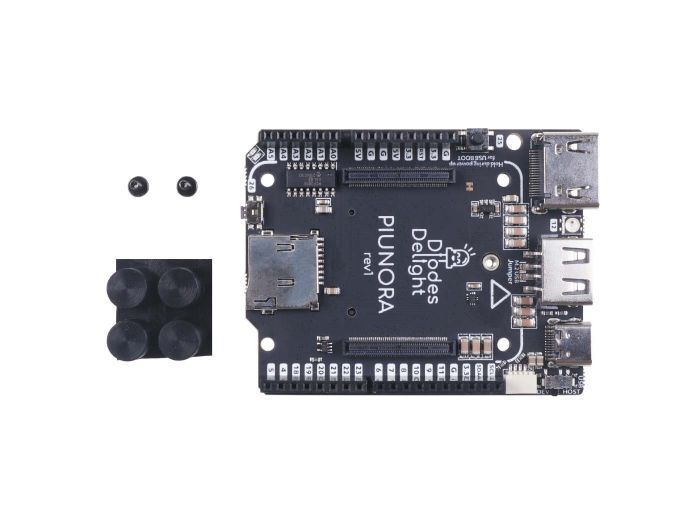 Resources: