Note: This package DOES NOT include a learning kit. If you want the package with the learning kit, choose this package YMC with Learning Kit instead.
---
Arus Academy proudly presents a do-it-yourself online learning experience with Arduino programming. We now deliver a learning experience that students can go through in their own time. There is no need for a live Google Meet or Zoom session for the lessons. What we offer instead is a learning platform that is interactive and an engaging experiential experience. We also offer supplementary weekly consultation hours (by appointment) for additional help students might need. Consultation sessions are done via Google Meet with an actual teacher.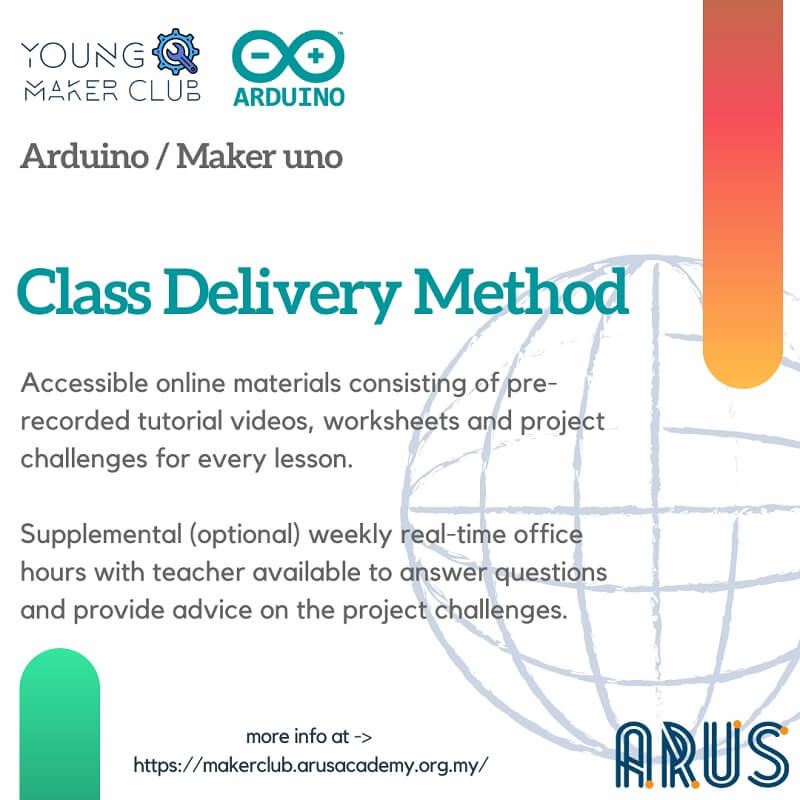 A great thing about this self-learning experience is that you can attempt as many times as possible to do the challenges.
In this Young Maker Club, students are challenged to put together their Arduino programming knowledge and project-making skills to design project prototypes that help to solve real-world problems.
Topics covered: 
Introduction to microcontrollers
Basic circuit
Analog output with motors
Digital input with serial communication
Analog input with sensors
Distance detection system
Precise motion
Design Thinking
Troubleshooting in project making 
Project pitching
Pre-requisites:
Computer/Laptop with an Internet connection
Features:
Platform language: English
Age group: 12 - 16 years old
Class size: No limit as this is a self-learning platform
Time table: No schedule as this is flexible. Lessons will be released on a weekly basis. There will be an option to schedule a weekly consultant during office hours if needed.
Program Duration: Mid of July - Mid of October 2021
Once you registered and make the payment, ARUS will contact you via email and provide you access to their learning platform.
Resources: