Note: With the Official NVIDIA Jetson Series of Dev Kit shortage, these reComputer Jetson Nano 4G Dev kits are the best alternatives for the AI platform.
---
Note: This page has two reComputer Jetson 4GB Dev Kit options. Please choose the preferred Dev Kit:
The reComputer Jetson Nano 4G Dev kits are the result of advanced engineering from SeeedStudio that integrates the production version of NVidia Jetson Nano (B01) System on Module (SoM) and a carrier board. The Jetson 4G Dev kits are hand-size edge AI box ready with a rich set of IOs, aluminum case, passive heatsink, and pre-installed JetPack System, ready for your next AI application development and deployment.
reComputer Jetson series are compact edge computers built with NVIDIA advanced AI embedded systems. With rich extension modules, industrial peripherals, and thermal management combined with decades of Seeed's hardware expertise, reComputer Jetson is ready to help you accelerate and scale the next-gen AI product emerging in diverse AI scenarios.
reComputer Jetson is compatible with the entire NVIDIA Jetson software stack, cloud-native workflows, and industry-leading AI frameworks, helping deliver seamless AI integration.
NVIDIA Jetson Nano B01 Dev Kit vs reComputer Jetson Nano 4GB Advanced vs reComputer Jetson Nano 4GB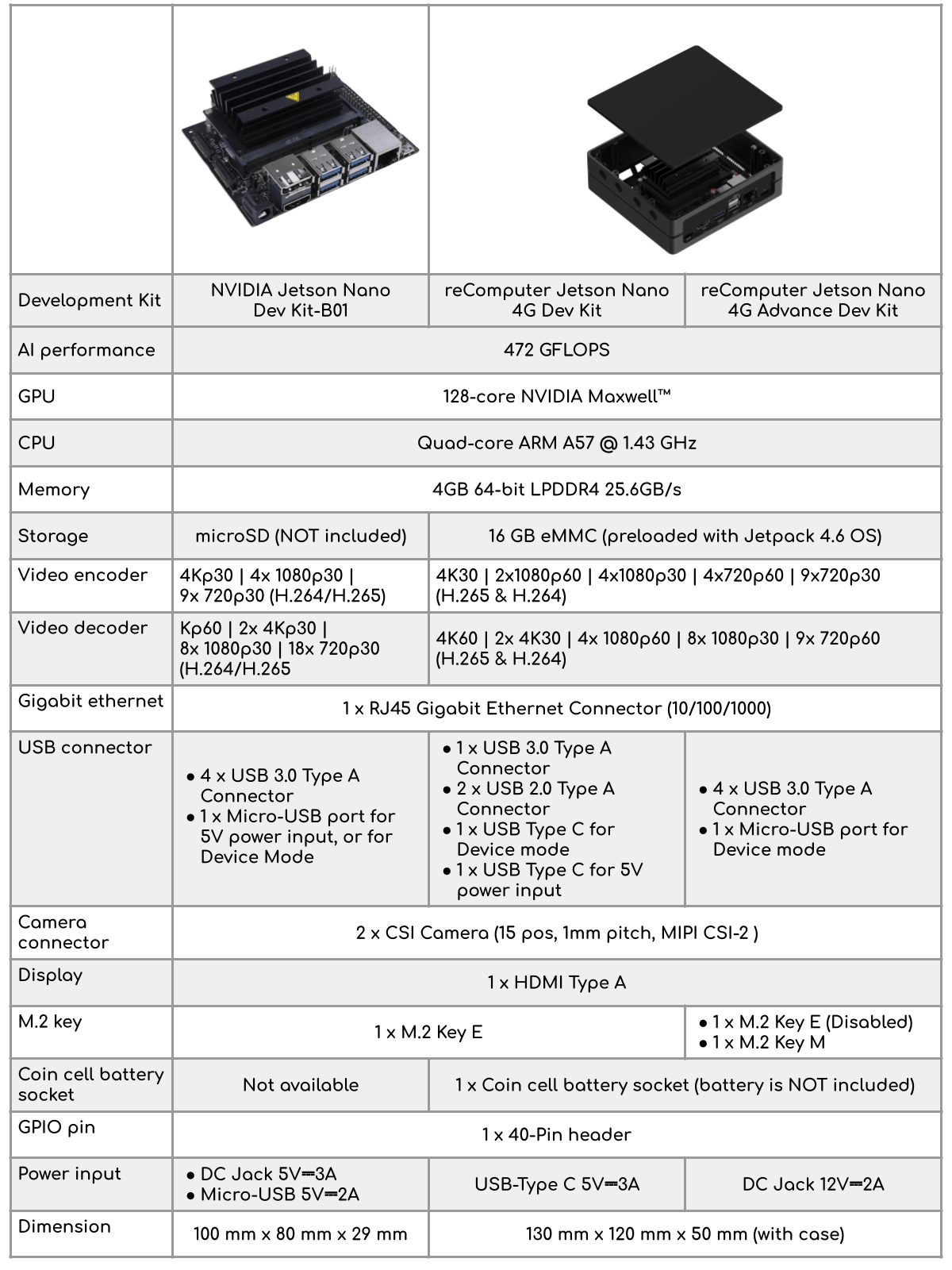 Application: For Next-gen Autonomous Machine 
With edge AI developers can deploy machine learning models in solving demanding challenges for advanced robotics and autonomous machines in the fields: 
Edge AI into the Wild: UAV, Drone, Wildlife protection, 
Agriculture
Smart City: Traffic, Retail, Healthcare 
Industry 4.0: Manufacturing, Logistics, Delivery, Service s

Power-efficient AI computer, compact rich I/Os for endless AI possibilities:  
reComputer Jetson Nano comes with Jetson Nano System on Module (SOM) that delivers 0.5 TFLOPs (FP16), making it ideal for high-performance compute and AI in embedded and edge systems. You get the performance of 128 NVIDIA CUDA® Cores, and Quad-Core ARM CPUs. Combined with over 25.6GB/s of memory bandwidth, video encoded and decoded, these features make Jetson Nano the platform of choice to run multiple modern neural networks in parallel and process high-resolution data from multiple sensors simultaneously.
Now, you can innovate at the edge with powerful and efficient AI, computer vision, and high-performance computing at just 5 to 10 watts.
Powerful reference carrier board :
Seeed reference carrier boards for reComputer Jetsons are high-performance, interface-rich NVIDIA Jetson Nano compatible carrier boards, providing HDMI 2.0, Gigabit Ethernet, USB 3.0, USB 2.0, M.2 keys, CSI camera, GPIO, I2C, I2S, PWM fan, and other rich peripheral interfaces. It has nearly the same functional design and size as the carrier board of NVIDIA Jetson Nano Developer Kit | NVIDIA Developer.
Take advantage of the small form factor, sensor-rich interfaces, and big performance to bring new capability to all your embedded AI and edge systems.
reComputer Jetson Nano 4G Advanced Dev Kit Carrier Board (J1020)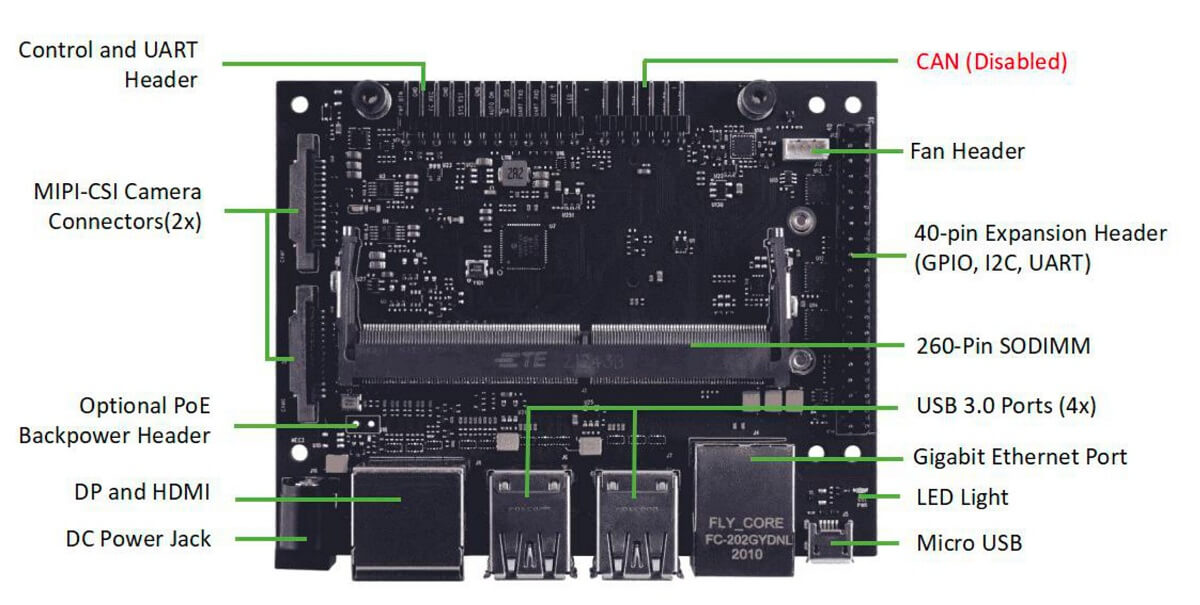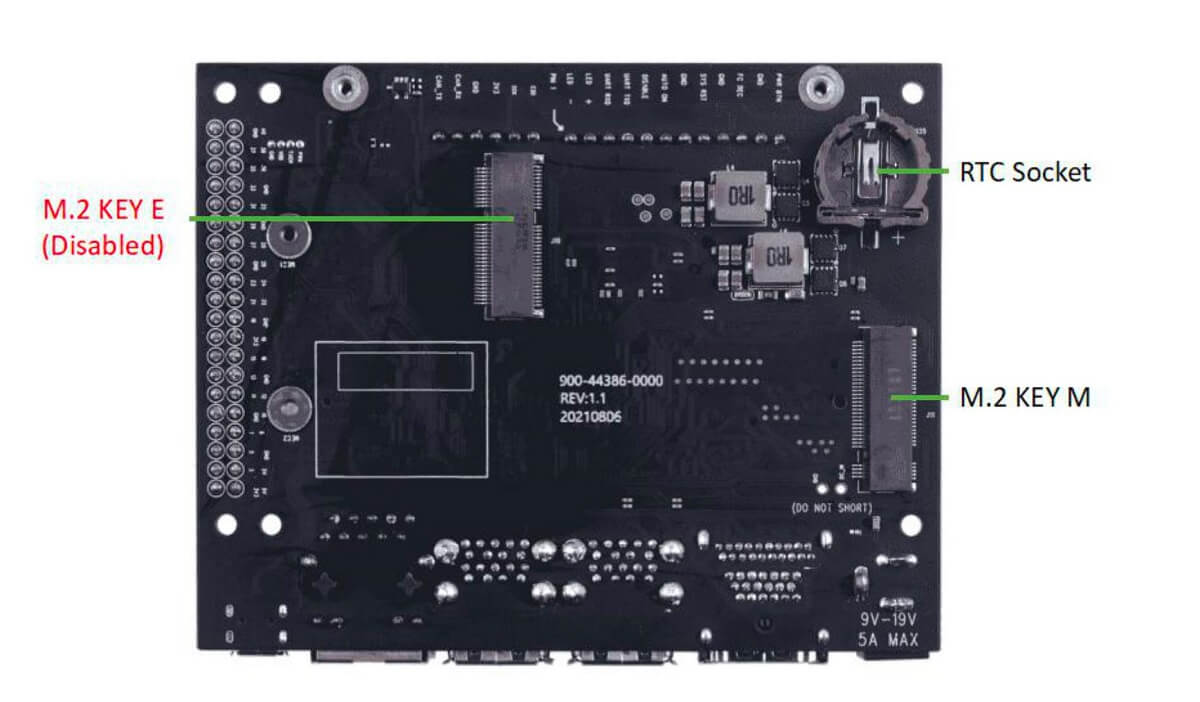 reComputer Jetson Nano 4G Dev Kit Carrier Board (J1010)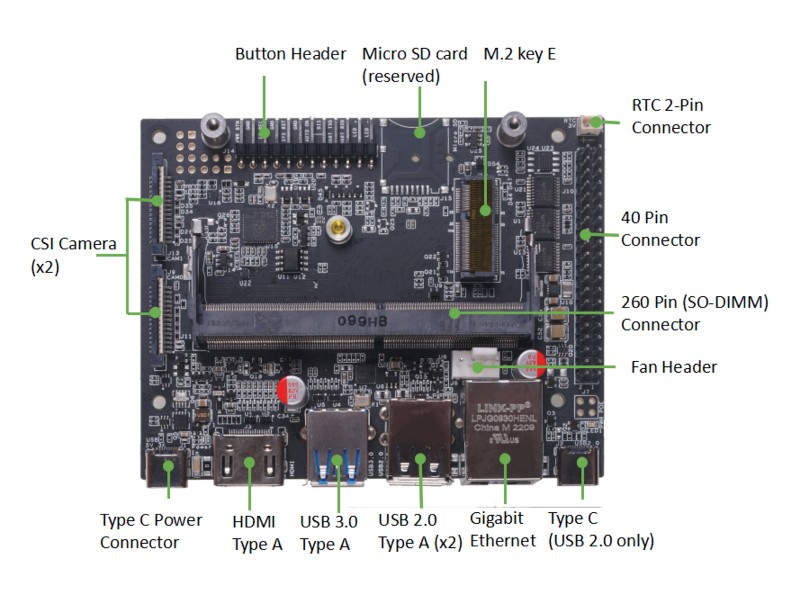 Comes with Aluminum Enclosure ready for Desktop, Wall Mount, or fit in anywhere
With an overall dimension of 130mm*120mm*50mm, it is only around 1/10 of the size of an ordinary computer case which makes it possible to fit in edge AI scenarios. The back screw holes allow you to hang the product as you need.
Prebuild system for edge AI integration:
All NVIDIA® Jetson™ modules and developer kits are supported by the same software stack, enabling you to develop once and deploy everywhere. Jetson Software is designed to provide end-to-end acceleration for AI applications and accelerate your time to market. This dev kit brings the same powerful NVIDIA technologies that power data center and cloud deployments to the edge.
NVIDIA JetPack includes NVIDIA Container Runtime with Docker integration, enabling GPU accelerated containerized applications on the Jetson platform. Jetpack also brings support for NVIDIA Triton™ Inference Server to simplify the deployment of AI models at scale.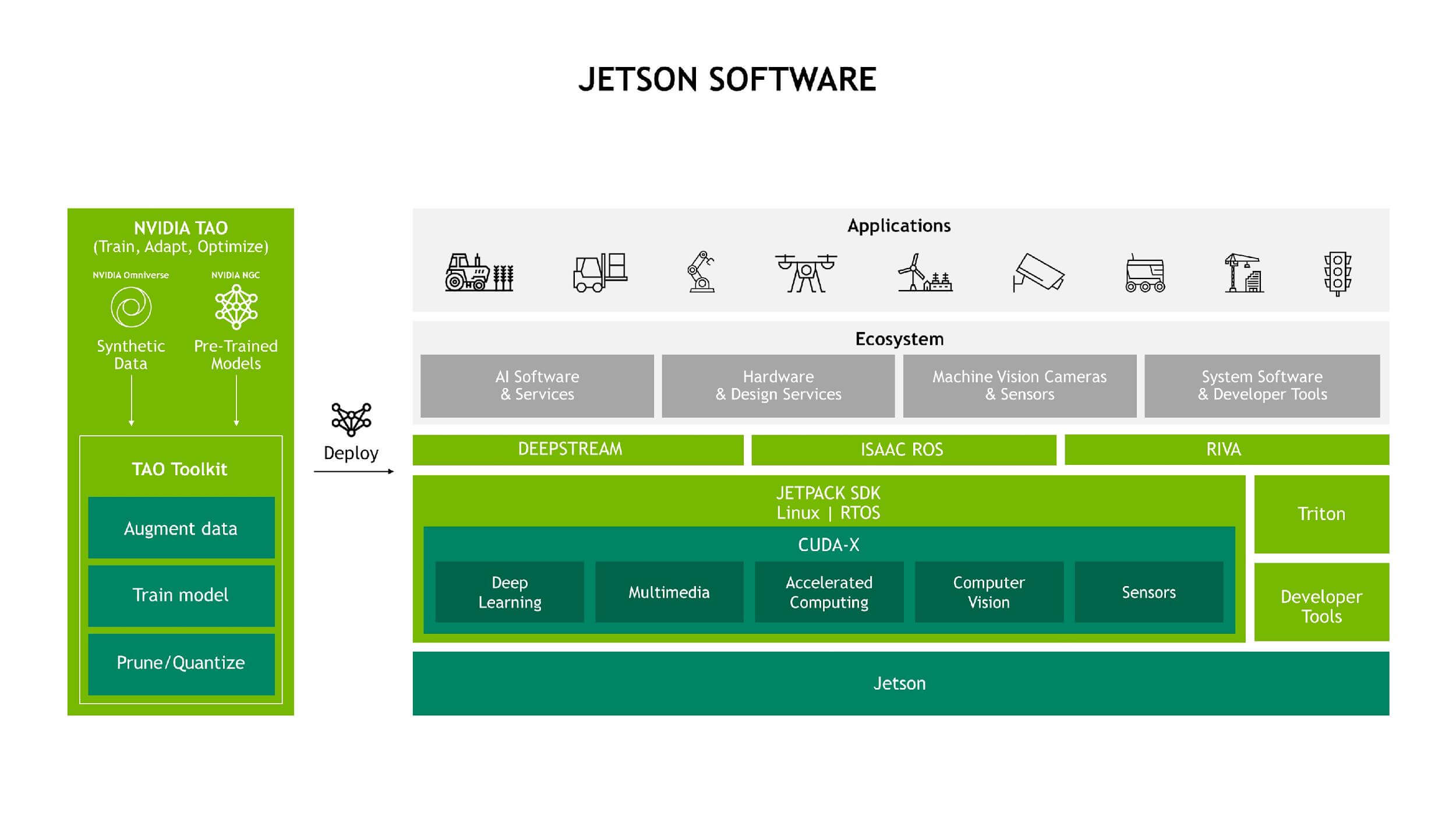 NVIDIA Jetson powered Edge AI platform
You will find everything you want to work with NVIDIA Jetson Platform here.
Deploying an AI idea can be faster, flexible, and even scalable for everyone. The Jetson Platform targets on helping educators, developers and enterprises deploy ML in the real world. By consolidating best-in-class hardware, and cutting-edge technology from many software partners and all developers from the community, it aims to emerge all kinds of AI scenarios into the open-source platforms to faster industries' digital transformation.

Check out the reComputer J1020 review by Jim from JetsonHacks here:
Features:
Integrated with Production grade NVidia Jetson Nano 4GB (B01) System on Module (SOM)
Powered by the quad-core ARM® Cortex®-A57 MPCore processor
128-core NVIDIA Maxwell™ GPU with 128 NVIDIA CUDA® cores delivers 0.5 TFLOPs (FP16)
Rich peripherals including:

reComputer Jetson Nano 4G Advanced Dev Kit (J1020):

Gigabit Ethernet port
4 x USB 3.0 Type-A ports
1 x Full-Size HDMI port and DP port

reComputer Jetson Nano 4G Dev Kit (J1010):

Gigabit Ethernet port
1 x USB 3.0 Type-A ports
2 x USB 2.0 Type-A ports
1 x HDMI port

All enclosed in a practical aluminum case
Pre-installed NVIDIA official JetPack software onto the onboard 16GB eMMC, ready for cloud-native application
Able to mount on the wall with mounting holes on the back
Support a wide range of AI applications fast building with the ecosystem partners
Support Allxon to enable efficient remote hardware management services
Note: Currently, the reComputer Jetson Nano 4G Dev kits (both models) are ready with the JetPack 4.6 system.
NVIDIA Jetson NANO System on Module (SoM) Technical Specifications:
GPU: NVIDIA Maxwell™ architecture with 128 NVIDIA CUDA® cores
AI Performance: 0.5 TFLOPs (FP16)
CPU: Quad-core ARM A57 @ 1.43 GHz
Memory: 4 GB 64-bit LPDDR4 1600MHz - 25.6 GB/s
Storage: 16 GB eMMC 5.1 Flash
Video encoder: 250 MP/sec

1x 4K @ 30 (HEVC)
2x 1080p @ 60 (HEVC)
4x 1080p @ 30 (HEVC)

Video decoder: 500 MP/sec

1x 4K @ 60 (HEVC)
2x 4K @ 30 (HEVC)
4x 1080p @ 60 (HEVC)
8x 1080p @ 30 (HEVC)

Connectivity: 10/100/1000 BASE-T Ethernet
Camera connector: 12 lanes (3x4 or 4x2) MIPI CSI-2 DPHY 1.1 (18 Gbps)
Display:

HDMI 2.0 or DP1.2 
eDP 1.4 
DSI (1 x2) 2 simultaneous

UPHY:

1 x 1/2/4 PCIE
1 x USB 3.0
3 x USB 2.0

I/O: 

1 x SDIO 
2 x SPI 
4 x I2C 
2 x I2S 
GPIOs -> I2C, I2S

Mechanical: 260-pin edge connector
Size: 69.6 mm x 45 mm
Carrier Board Technical Specifications: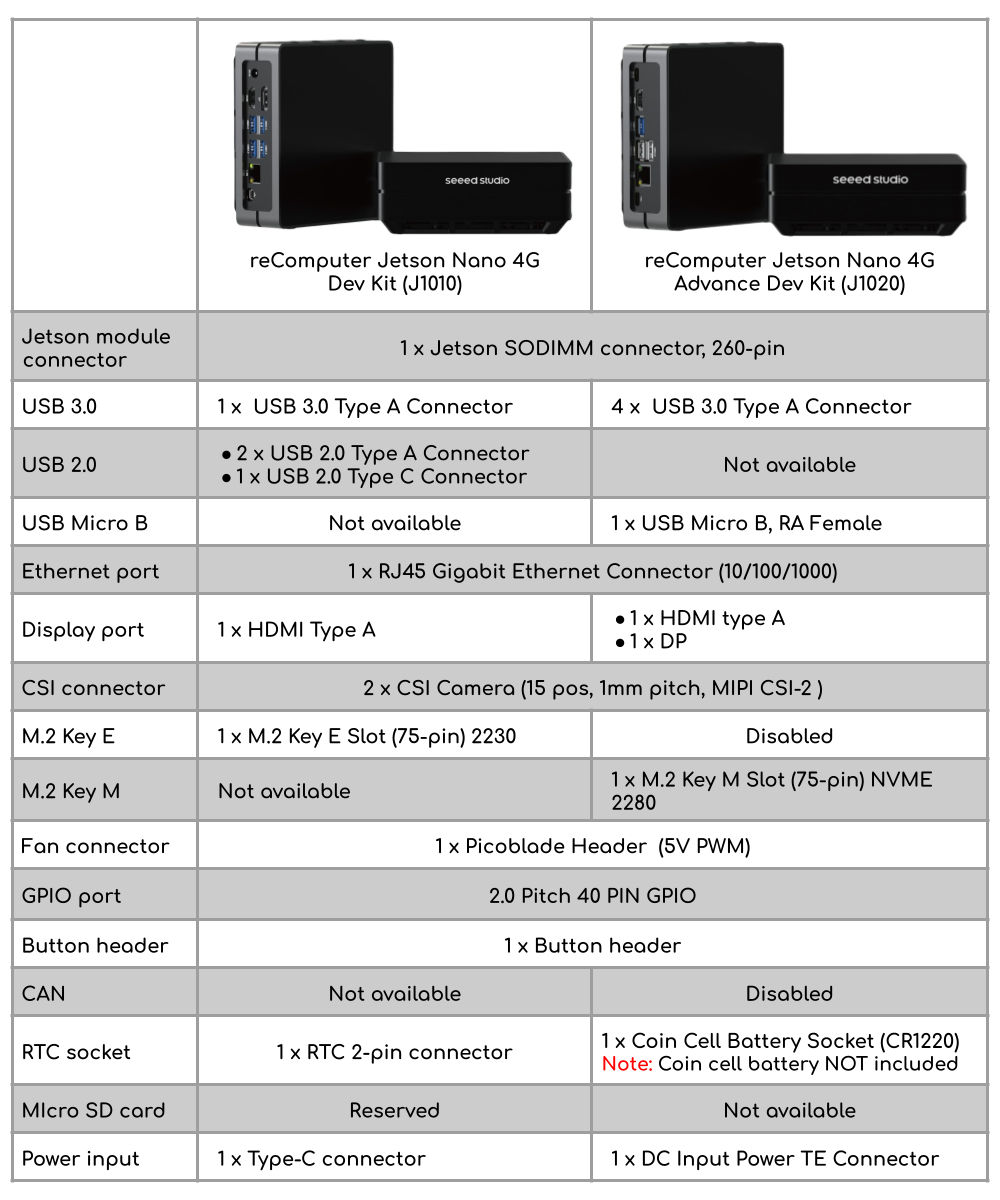 Packing List:
reComputer - Jetson Nano 4G Advanced Dev Kit (J1020)

1 x Acrylic Cover
1 x Aluminium Frame 
1 x Production Jetson Nano Module with pre-loaded Jetpack 4.6 onboard 16GB eMMC
1 x Heatsink 
1 x Carrier board 
1 x Universal 12V/2A  Power Adapter (with 5 interchangeable adapter plugs)
FREE: (Only from Cytron Technologies)
reComputer - Jetson Nano 4G Dev Kit (J1010)

1 x Acrylic Cover
1 x Aluminium Frame 
1 x Production Jetson Nano Module with pre-loaded Jetpack 4.6 onboard 16GB eMMC 
1 x Heatsink 
1 x Carrier board 
FREE: (Only from Cytron Technologies)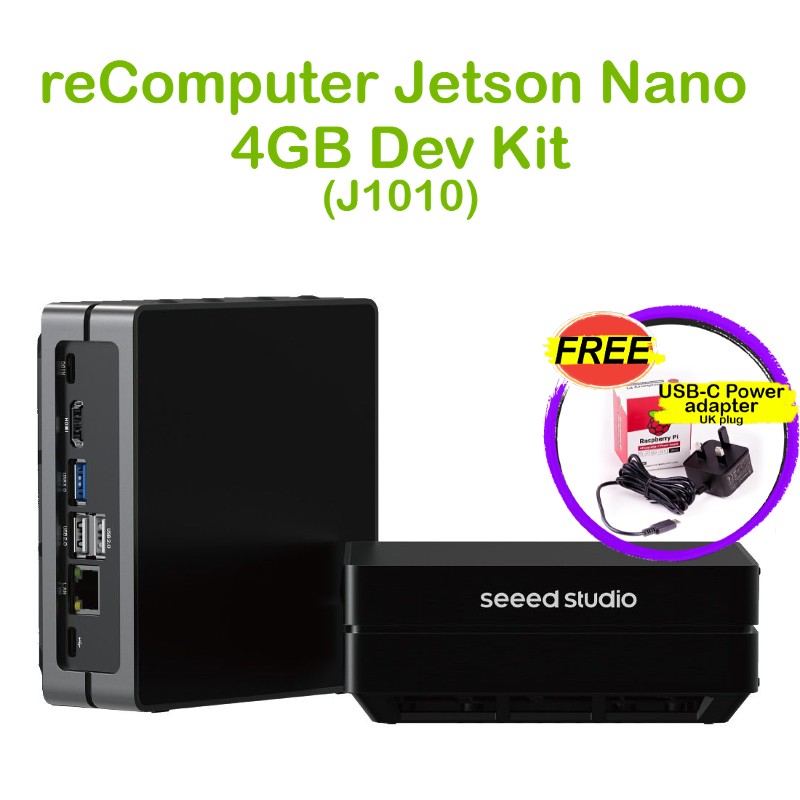 Resources: