This Base Board provide you with the Raspberry Pi Model B form factor of the Raspberry Pi CM4 :)
It enables you to evaluate the Raspberry Pi CM4 (both wireless and non-wireless)
It is also compatible with CM4 with eMMC or CM4 Lite (without onboard eMMC). The Mini Base Board extended out the Raspberry Pi standard 40-pin GPIO onto color-coded headers.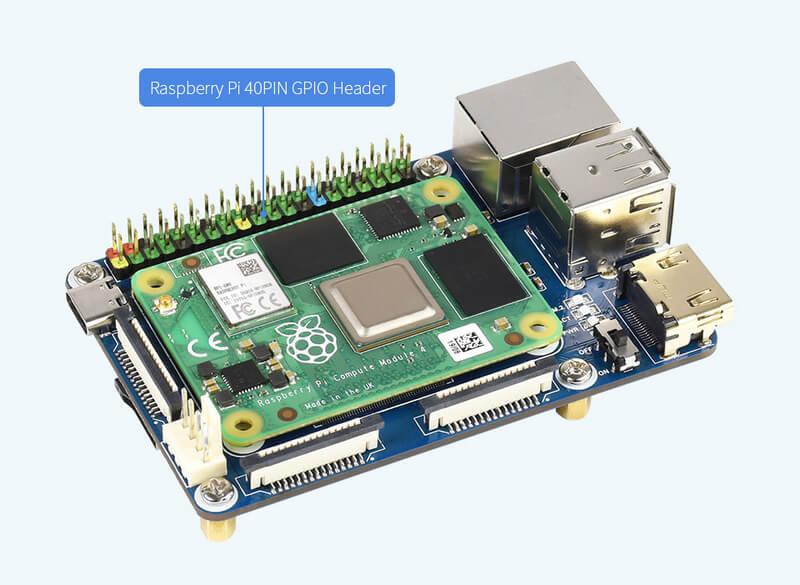 Compact yet complete with many practical and useful peripherals/ports:
CSI
DSI
FAN (Only 5V fan)
Full-Size HDMI
USB
RJ45 Gigabit Ethernet
Micro SD Card Slot
M.2 Slot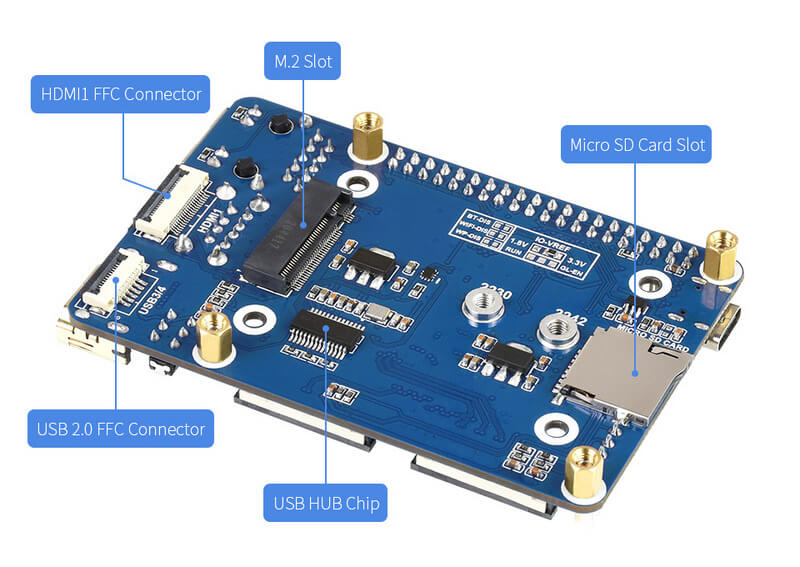 Note: Only support NVME SSD M.2 Key M, 2230 and 2242, this board DOES NOT support M.2 SATA III SSD.
CM4 socket:

suitable for all variants of Compute Module 4

Power input/Programming:

5V/2.5A power supply, or used for eMMC burning

DISP:

MIPI DSI display port

FAN:

For connecting cooling fan, only support 5VDC fan, no speed control

CAM

2 x MIPI CSI camera ports

HDMI0 connector:

HDMI0 port supports up to 4K 30fps output

USB 2.0 ports:

2 x USB 2.0 ports, for connecting sorts of USB devices
USB2.0 is closed by default, if you need to open it, you need to add dtoverlay=dwc2,dr_mode=host

Gigabit Ethernet connector

Gigabit Ethernet RJ45 connector, with 10 / 100 / 1000M network support

M.2 indicator:

Indicating the operating status of M.2 interface

ACT indicator:

Indicating the operating status of Raspberry Pi

PWR indicator:

Indicating the status of Raspberry Pi power supply

BOOT selection:

ON: CM4 would be booted from the USB-C interface
OFF: CM4 would be booted from eMMC or Micro SD card

40PIN GPIO header:

Raspberry Pi Standard 40-pin GPIO, in color-coded headers

Micro SD card slot:

For connecting a Micro SD card with a pre-burnt image (Lite variant ONLY)

HDMI1 FFC connector:

HDMI1 port supports 4K 30fps output
Requires another adapter board (optional)

USB 2.0 FFC connector:

Can be connected through an adapter
Requires another adapter board (optional)

FE1.1S

USB HUB chip, expanding one USB port to 4x ports

M.2 slot:

supports sorts of NVME SSD, or communication modules with PCIe M.2 KEY-M interface
NVME SSD 2230 and 2242 ONLY
Not Compatible with SATA M.2 SSD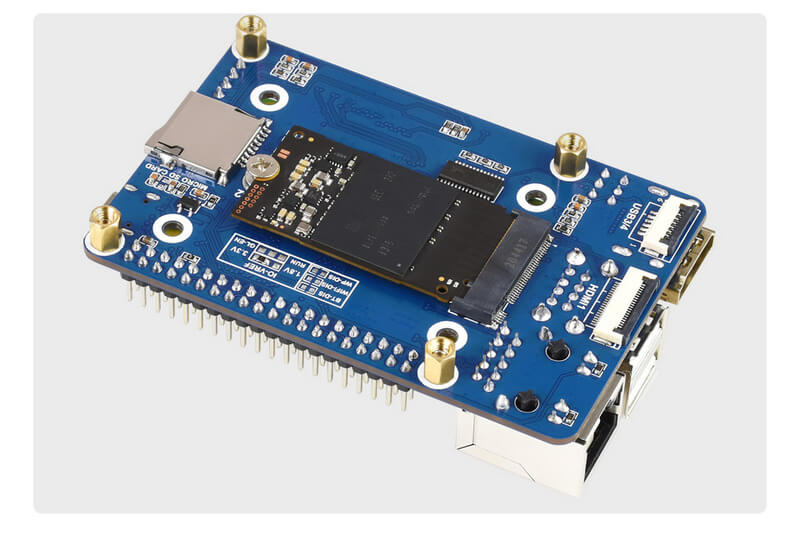 Features and Specs:
Carrier or expansion board for Raspberry Pi CM4
Model: A
Suitable for all variants of Compute Module 4, Wireless, Non-wireless, with eMMC, without eMMC
NETWORKING: Gigabit Ethernet RJ45 connector
M.2: M KEY, supports communication modules or NVME SSD
CONNECTOR: Raspberry Pi 40-pin GPIO header
USB: USB 2.0 Type A × 2, USB 2.0 via FFC connector × 2
DISPLAY: MIPI DSI display port (15pin 1.0mm FPC connector)
CAMERA: MIPI CSI-2 camera port × 2 (15pin 1.0mm FPC connector)
VIDEO: HDMI port × 2 (including one port via FFC connector), supports 4K 30fps output
RTC: N/A
STORAGE: MicroSD card socket for Compute Module 4 Lite (without eMMC) variants
FAN HEADER: no fan control, 5V
POWER INPUT: 5V, via USB-C receptor
DIMENSIONS: 85 × 56mm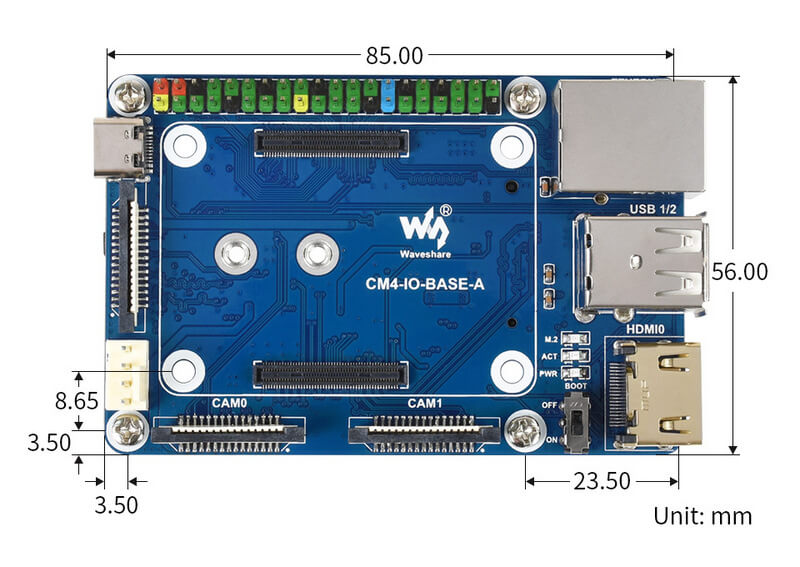 Example Application: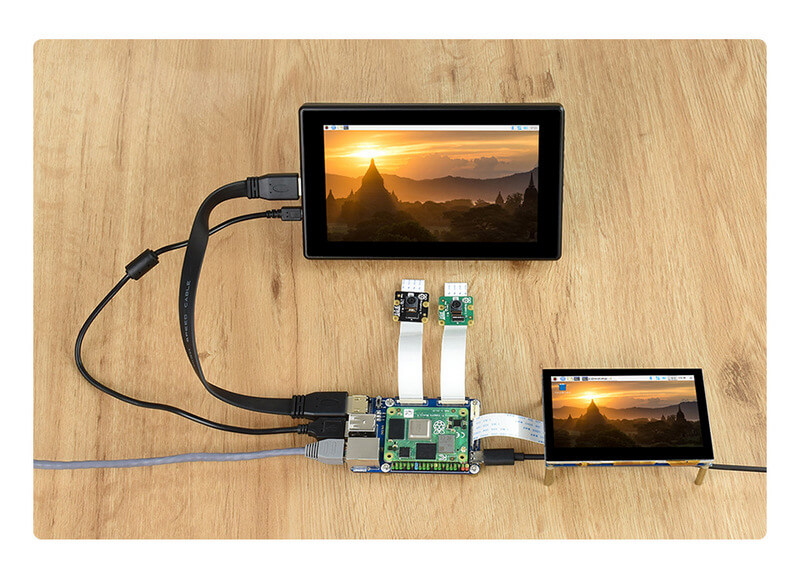 Packing List:
1 x Raspberry pi Compute Module 4 Mini Base Board
Resources: