Description
Note: These are options for the Pi-Top 4 DIY Case Kit, please choose your preferred kit under the Available Options:
---
Note:
After installation of Pi-Top 4, it requires charging from a
USB-C PD power adapter
(recommended 15V, 36W), which we have included in this kit.
POWER ARMOUR FOR YOUR RASPBERRY PI
The Ultimate Raspberry Pi Case to go Anywhere and do Anything!
pi-top [4] DIY EDITION is the Raspberry Pi 4 case with an inbuilt battery and power management system: ditch the power supply and untether your projects. Designed specifically for Raspberry Pi 4 Model B boards and of course, the case is compatible with:
pi-top [4] DIY Edition provides full access to Raspberry Pi's ports and GPIO and comes with:
5-hour internal battery
Power management system
Integrated heat sink and cooling fan
Mini OLED screen and programmable buttons
Integrated 1-watt loudspeaker
Note: You'll need to install your own Raspberry Pi 4 Model B board. Check out pi-top [4] DIY Edition installation video by pi-top TEAM:
TAKE YOUR PROJECTS OUT THERE
Simply install a Raspberry Pi 4 in pi-top [4] DIY Edition's rugged case and start making portable or mobile Raspberry Pi projects. From rovers to drones: the only limit is your imagination!
pi-top [4] DIY Edition is engineered to be both powerful and versatile. It has a 5-hour internal battery, integrated heat sink, and cooling fan, power management system, a mini OLED screen and programmable buttons, an integrated 1-watt loudspeaker, and full access to Raspberry Pi's ports and GPIO.
INTRODUCING PI-TOPOS (Operating System)
To get the most from your pi-top, it's best to run pi-topOS. Some of the advanced features of pi-top are not managed by Raspberry Pi OS (formerly Raspbian) or other operating systems. With an intuitive interface, built-in Search Portal, and a full suite of applications, the pi-topOS makes designing, coding, and making easy.
pi-topOS has been designed for pi-top [4] which features the Raspberry Pi 4. However, it is also compatible with any pi-top product featuring a Raspberry Pi 3B, or 3B+.
pi-topOS comes with a full software suite, including Chrome Web browser, and a full Microsoft Office-compatible productivity suite. Also included are image editing applications such as ImageMagick and mtPaint, as well as Sonic Pi to create music and sounds. Finally, there's Minecraft: Raspberry Pi Edition
Check out the pi-top [4] DIY Edition unboxing video by pi-top TEAM:
Raspberry Pi 4 Model B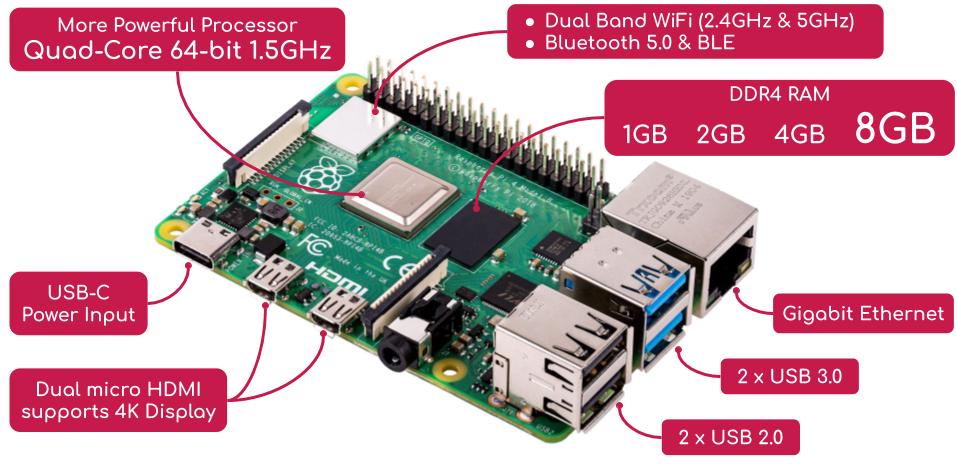 Features
Perfect Bundle to start with Pi-Top 4 DIY Case
Pi-Top 4 DIY Power Armour Case:

Do It Yourself, DIY version of pi-top 4
A powerful, ruggedized case for Raspberry Pi 4 Model B boards.
Easy installation
5-hour internal battery

Requires a separated USB-C PD Power Adapter to Charge
At least: 12V, 3A, 36W
Recommended: 15V, 36W

Built-in Power management system
USB-C power delivery
Integrated heat sink and cooling fan
Mini OLED screen and programmable buttons
Integrated 1-watt loudspeaker
Full access to the Raspberry Pi GPIO, micro SD cards, and other I/O ports
Raspberry Pi 4 Model B:

Broadcom BCM2711, 64-bit ARM Cortex-A72 (ARMv8), Quad-core, 28nm Processor SoC running @ 1.5GHz, with a metal body for better heat dissipation.
LPDDR4 SDRAM:

8GB (Recommended for Pi-Top 4 DIY Power Armour Case)
4GB (Recommended for Pi-Top 4 DIY Power Armour Case)
2GB
1GB

2 x USB3.0 Port + 2 x USB2.0 Port
Expanded 40-pin GPIO Header
Video/Audio Out:

4-pole 3.5mm connector
2 x micro HDMI port, support 4Kp60 video, dual display
Raw LCD (DSI)

Image/Camera input: CSI port
Storage: MicroSD
True Gigabit Ethernet, >900 Mbps
Power-over-Ethernet (PoE) support (requires separate PoE HAT)
2.4GHz and 5GHz IEEE 802.11.b/g/n/ac wireless LAN, Bluetooth 5.0 and BLE (Bluetooth Low Energy)
Low-Level Peripherals:

27 x GPIO
UART
I2C bus
SPI bus with two chip selects
+3.3V
+5V
Ground

Power Requirement, 5V/3.0A via USB type C connector.
Supports Raspberry Pi OS, and check 3rd party Operating System here.
Dimensions: 85mm x 56mm x 17mm
Packing List
Pi-Top 4 DIY Power Armour Case and Raspberry Pi 4 Model B 8GB Bundle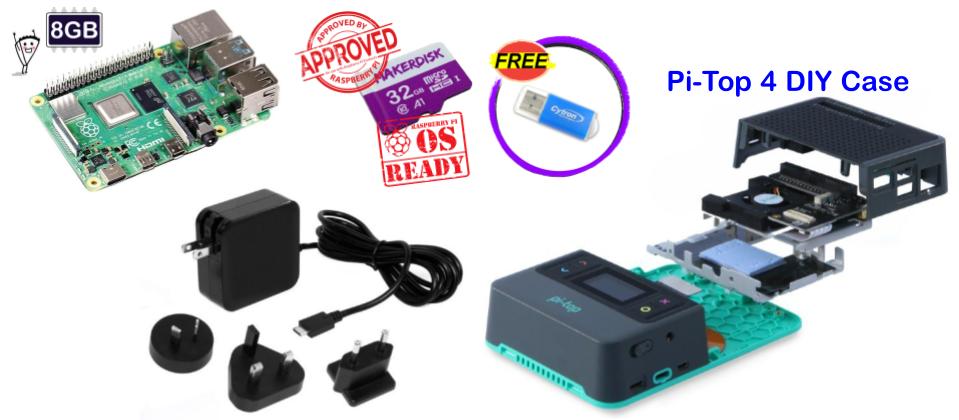 Pi-Top 4 DIY Power Armour Case and Raspberry Pi 4 Model B 4GB Bundle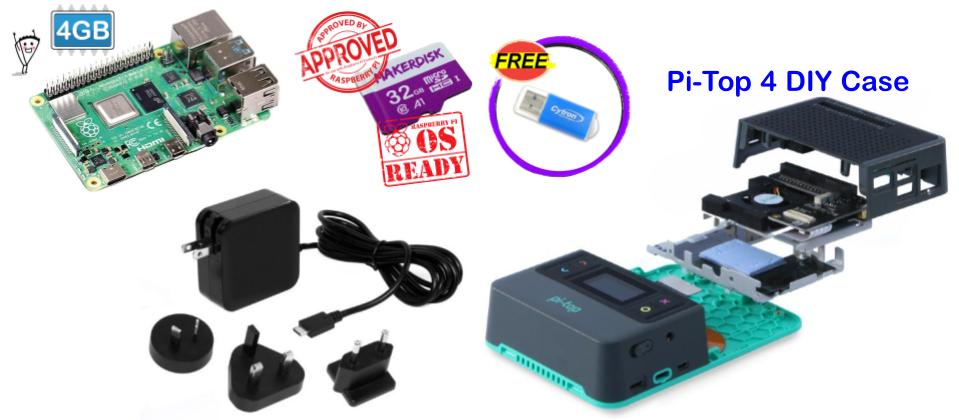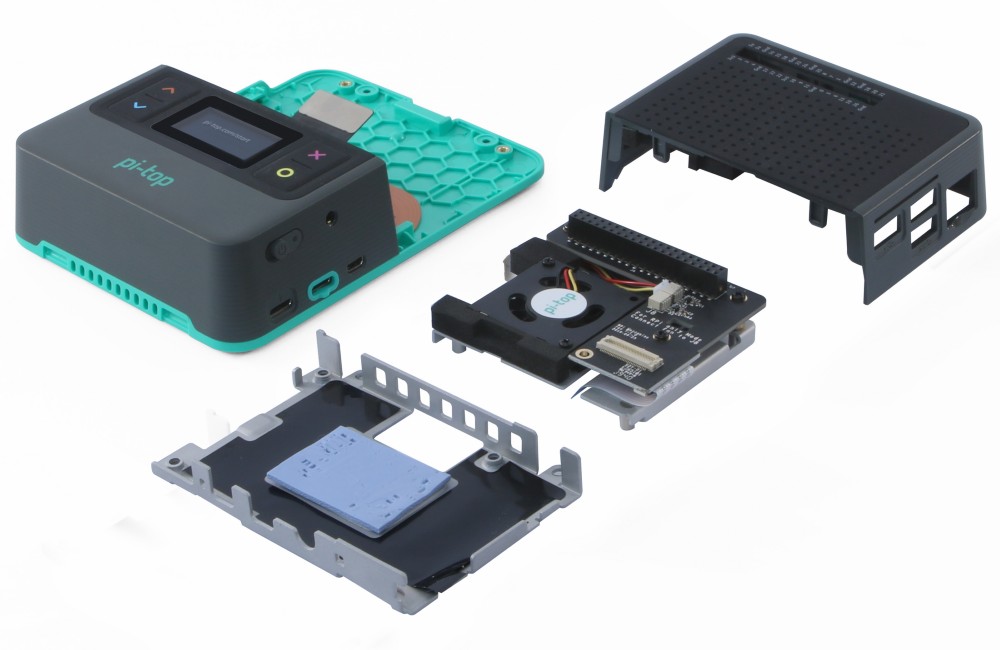 Resources