Note: micro:bit Quick Start Kit is UPGRADED with micro:bit V2 board. Every kit shipped after 19th April 2021 comes with the latest micro:bit V2.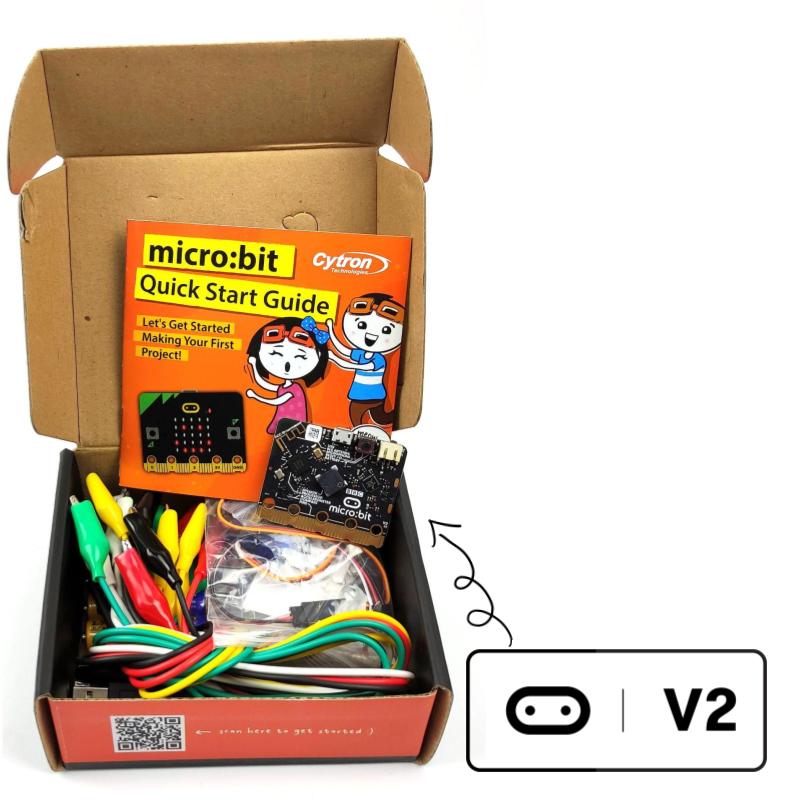 ---
micro:bit is a tiny programmable computer, designed to make learning and teaching easy and fun! This microbit Quick Start Kit is a STEAM education kit designed to include everything you need to build your first micro:bit STEM project, featuring sound, light and motion elements. It is the perfect project set for primary and secondary school students to learn coding, microcontroller, LED, sensor and motor.
Note: This kit INCLUDES micro:bit V2 board.
With micro:bit board and USB micro B cable included in this kit, you can start coding and having fun with micro:bit's LEDs, buzzer, microphone, buttons, and onboard sensors right away. Four AA batteries and an AA battery holder with an ON/OFF switch come in handy when you need to power up your portable projects. Since AA batteries have much higher capacity compared to AAA, your experiments and projects will last longer too.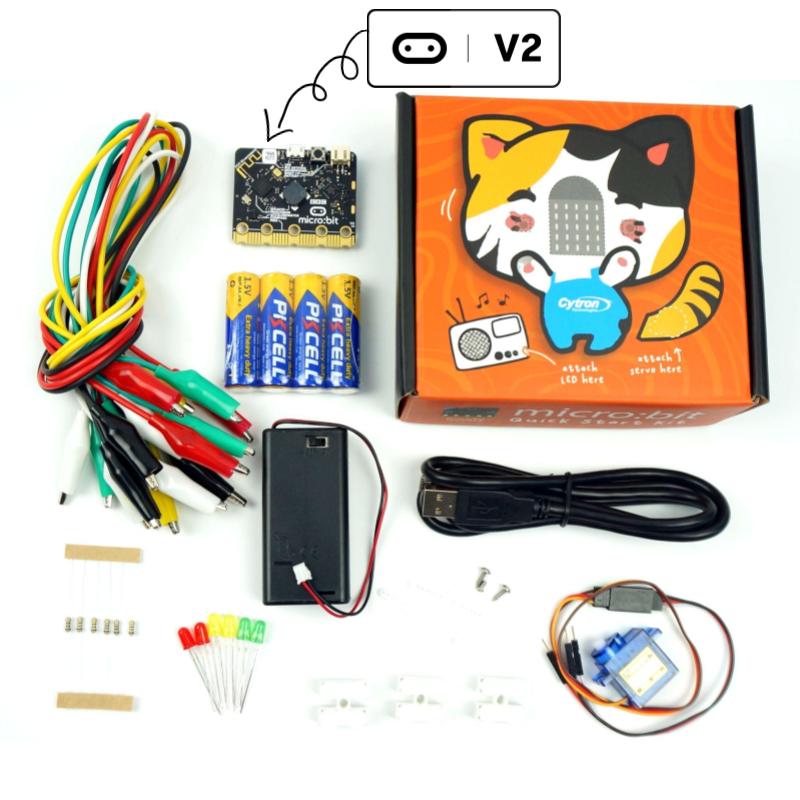 This kit also comes with a quick start guide booklet and it is updated with content for micro:bit V2 board. It will help you to get started building your first project without any hassle.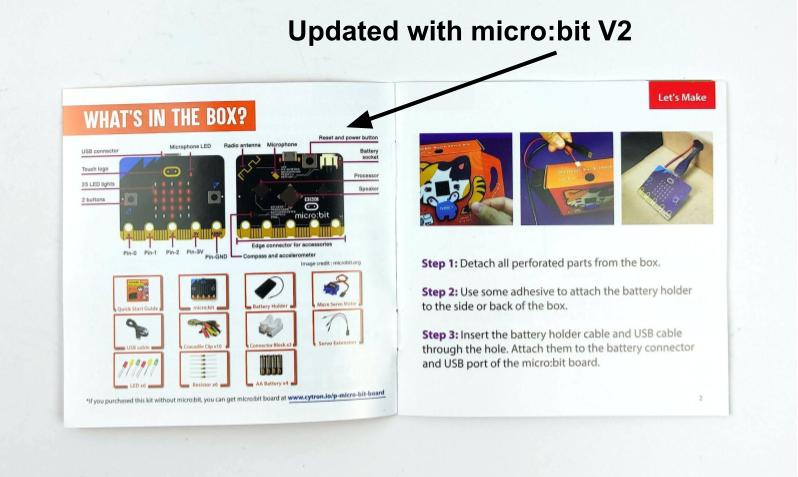 On top of that, additional learning resources for this kit are also available online in 3 language options (Malay, Mandarin and Tamil). The content was developed by ARUS Academy for the "Future Skills for All" initiative - a collaborative project between Malaysia's Ministry of Education, MDEC, Digi, Telenor and UNICEF. The module is well-aligned to the Year 5 Design and Technology subject (RBT) of the Malaysian National Curriculum.
The 5x5 LED matrix on micro:bit board, coupled with piezo buzzer included in this kit serves a good deal in adding visual and audio effects to your applications. There are tons of emoticons and melodies in MakeCode Editor at your disposal. Students will enjoy learning art, music, and coding, all at the same time.
Can micro:bit move? Not by itself, but 'Yes' if you add a micro servo motor to it. This kit comes with a 3V micro servo with a special extension cable for easy connection using crocodile clips. On top of all the components in this kit, the box itself is creatively designed to be part of your project too. Let's start making and coding with microbit Quick Start Kit!
Documents / Resources:
Packing List:
1 x quickstart guide booklet (updated for micro:bit V2)
1 x box designed to be used in your first micro:bit project (Updated with cutting for micro:bit V2)
1 x 2xAA battery holder with ON/OFF switch
4 x PKCell AA battery
1 x USB micro B cable
1 x Piezo buzzer with wire
1 x 3V micro servo motor
1 x Servo connector to male dupont pin extension wire
2 x 5mm yellow LED
2 x 5mm green LED
2 x 5mm red LED
6 x 100 ohm 0.25W resistor
3 x Quick wiring press type terminal block
10 x Crocodile clip with wire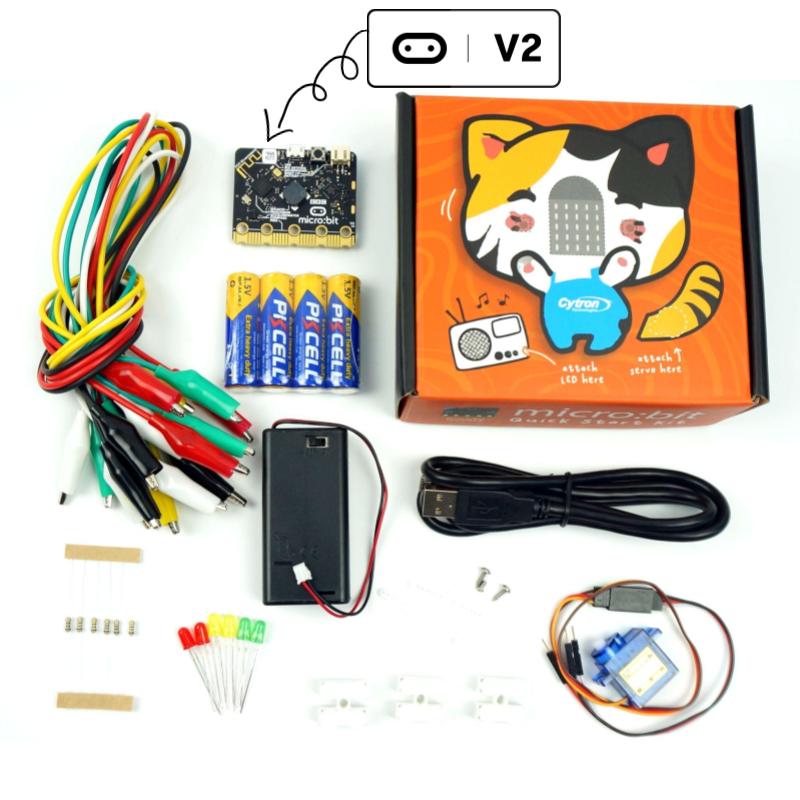 Total Reviews (456)
5

97.59%

4

1.32%

3

0.44%

2

0.22%

1

0.44%