Note: Not suitable for children under 4 years old!
Note: The solar panel is meant for OUTDOOR actual sunlight, indoor lighting will NOT generate significate electric power.
Note: Download the softcopy instruction manual (English) here. 
---
The DIY (Do It Yourself) Kit for Children Age 4 to 12 Years Old
If you have trouble playing the video above, you may access the video from here.
It's time to learn about solar renewable energy! With the advancement of solar technologies, today we can easily harness energy from the sun using solar panels! Basically, solar technologies convert sunlight into electrical energy either through photovoltaic (PV) panels or through mirrors that concentrate solar radiation.
Here are a couple of fun facts to get you excited! Did you know the first solar panel cell was invented in the 1940s? and that solar panels don't really need direct sunlight to generate electricity! Isn't that amazing? Don't believe me? Get this kit and test it out yourself!
This DIY kit is simple enough to be built by 4 years old children, with parent's help. And children 6 years old and above can build it by themself! Let them explore solar power and how it can help to save the earth by utilizing it! You can also let your kids understand how solar panel works and electric motor works. Awesome!
Features:
Do It Yourself Wooden Solar Power Fan House
Simple and yet educational
Suitable for age 4 years old and above
Come with everything needed to assemble as a solar-powered fan.
Powered by Solar panel
No soldering is needed
Wooden house structure allows improvements in various projects, ie: Automated/IoT house
Learn about renewable energy, solar power, electric motor :)
Packing List:
Wooden parts for the house structure
1 x Small Solar Panel
1 x Small DC Motor
1 x Small Propeller
2 x Wire cover
Some double-sided tape
1 x Filer for sanding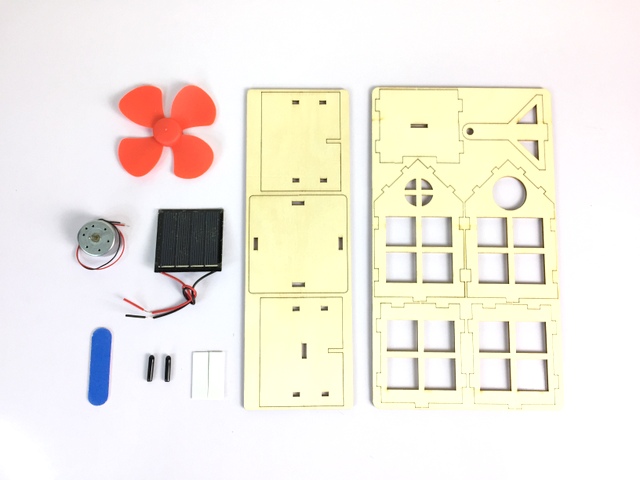 Resources: