Note: Stock from March 2021 onwards, the metal brackets in this kit are replaced with wooden blocks for a more rigid structure.
Note: Download the softcopy instruction manual (English) here. 
---
The DIY (Do It Yourself) Kit for Children Age 4 to 10 Years Old
If you have trouble playing the video above, you may access the video from here.
Get this kit to keep your kids occupied with hands-on activities while enjoying the running plane when it is completed. This DIY kit is simple enough to be built by 4 years old children, with parent's help. And children 6 years old and above can build it by themself! Let's them explore the fundamental mechanical structure of the plane, the concept of flying and electric motor :)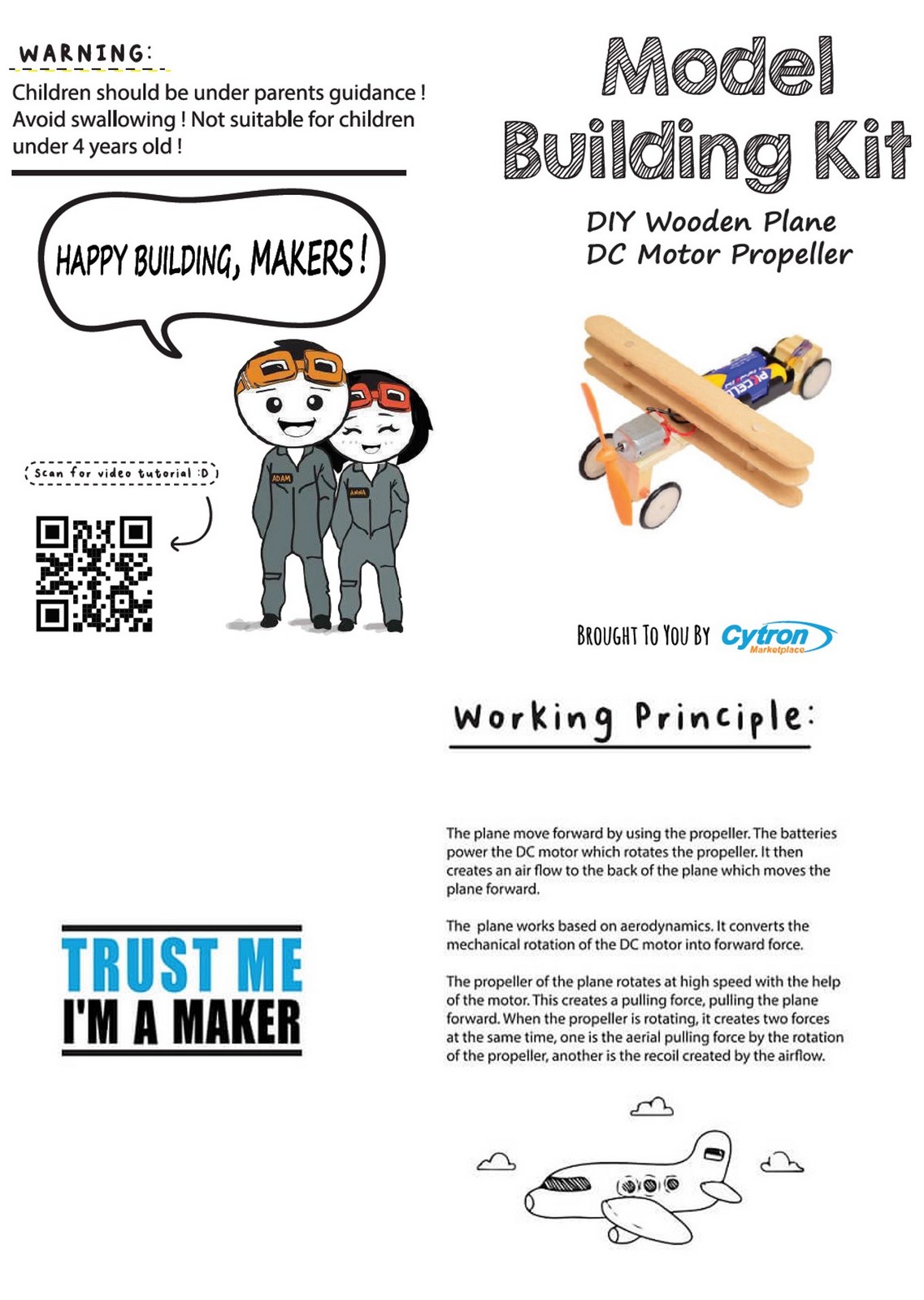 Note: Not suitable for children under 4 years old!
Of course, the plane cannot fly but it can really slide on the ground with the wind power generated by the propeller when the battery is connected properly :)
Note: The wind from the propeller should be blowing towards the back of the plane, if it is reversed, swap the wires to the motor terminal.
The working principles: The plane moves forward by using the propeller. The batteries power the DC motor which rotates the propeller. It then creates airflow to the back of the plane which moves the plane forward. The plane works based on aerodynamics. It converts the mechanical rotation of the DC motor into a forward force.
The propeller of the plane rotates at high speed which is driven by the DC motor (which is powered by the batteries). This creates a pulling force, pulling the plane forward. When the propeller is rotating, it creates two forces at the same time, one is the aerial pulling force by the rotation of the propeller, another is the recoil created by the airflow.
We have also prepared simple instructions in the video and in a soft copy!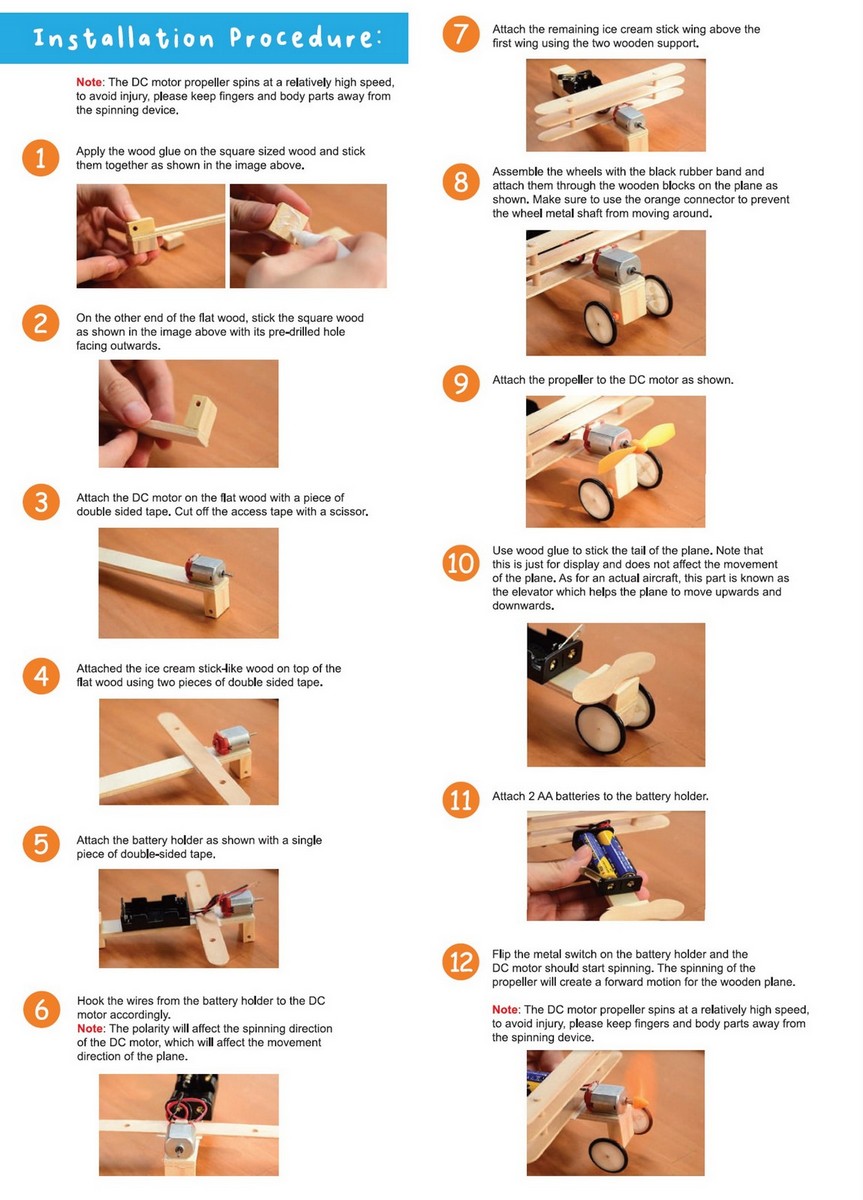 Features:
Do It Yourself wooden kit plane for kids
Suitable for age 4 years old and above
Come with everything needed to assemble as a model plane
Powered with two (2) AA-size batteries included in this kit
No soldering is needed
Slideable/Glideable on ground
Learn the basic structure of the plane
Learn the concept of an airplane with a propeller
Packing List:
Wooden parts for the plane body structure
4 x Plastic wheels with rubber tube
1 x Small DC Motor
1 x 2xAA size battery holder with wires (Black and Red)
1 x Plastic Propeller
1 x Wood Glue
AA Batteries
Cable ties
Double-sided tape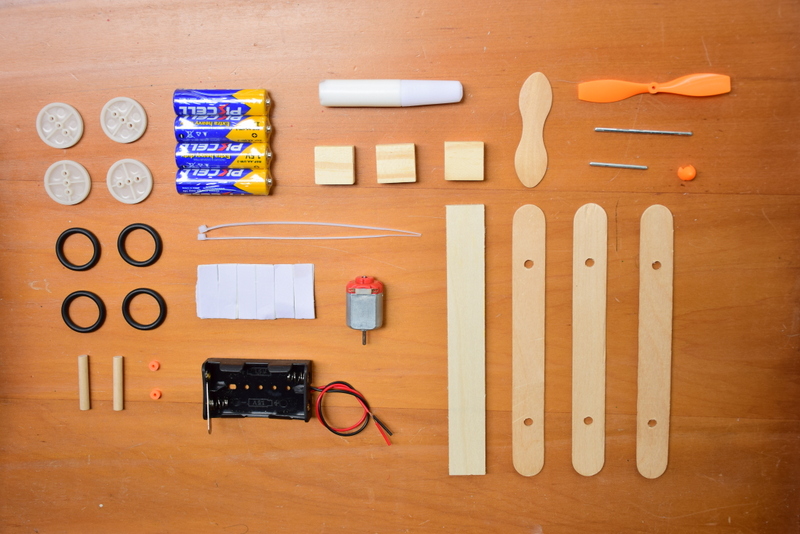 Resources:

Total Reviews (35)
5

94.29%

4

2.86%

3

2.86%

2

0%

1

0%