Note: Not suitable for children under 4 years old!
Note: Download the softcopy instruction manual (English) here. 
---
The DIY (Do It Yourself) Kit for Children Age 4 to 12 Years Old
Music: Carrying You (From "Castle in the Sky" by Studio Ghibli)
If you have trouble playing the video above, you may access the video from here.
DIY Wooden Music Box STEM Kit is a music box that works by rotating a metal cylinder that has protruding pins that pluck every prong of a steel comb. The sounds that we hear are actually generated from the vibration of the prongs when the protruding pins make contact.
Let your kids experience the wonder of music creation through this DIY 13th century musical instrument! This DIY kit is simple enough to be built by 6 years old children.
Features:
Do It Yourself Wooden Music Box
Suitable for age 6 years old and above
Come with everything needed to assemble the music box
No power or battery needed
Learn the mechanism of a wind-up music box
Music: Carrying You (From "Castle in the Sky" by Studio Ghibli)
Packing List:
Wooden parts for the music box
Wood glue
Some screws
Some double-sided tape
1 x Screwdriver
1 x Music instrument
1 x Mirror
1 x Filer for sanding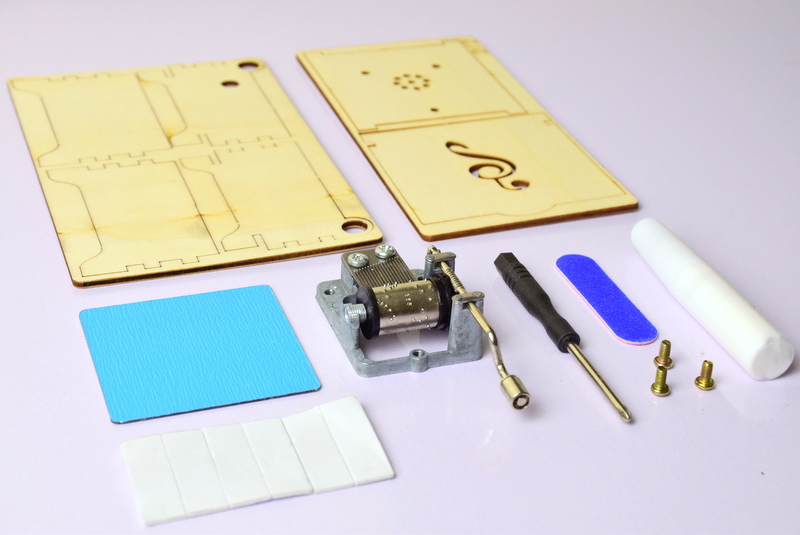 Resources: