Description
Note: Not suitable for children under 6 years old!
Note: Download the softcopy instruction manual (English) here. 
---
The DIY (Do It Yourself) Kit for Children Age 4 to 12 Years Old
If you have trouble playing the video above, you may access the video from here.
Energy conversion is the transformation of one form of energy into another form. A familiar modern example would be the wind turbine, which converts wind energy into mechanical or electrical energy. In this kit, you will learn the 3 most important energy conversion there is in the electronics world; you will learn to connect 3 simple circuit which converts electrical energy to mechanical movement, sound, and light.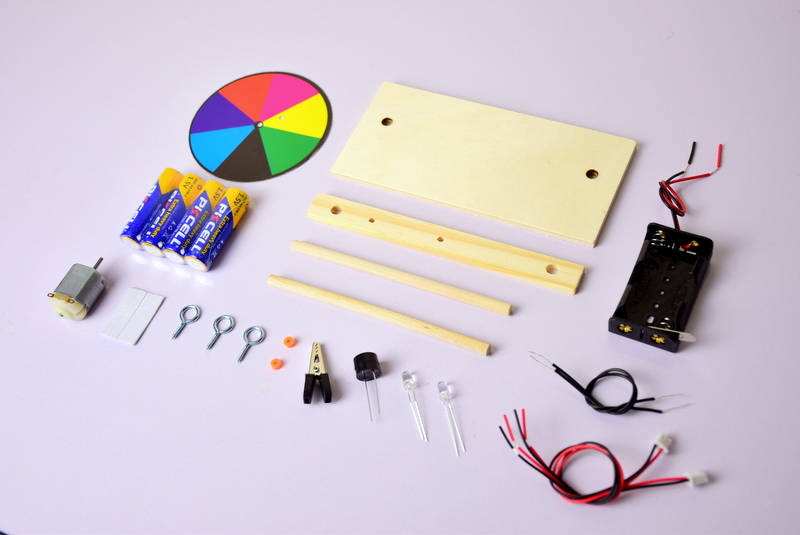 Get this kit to let your kids have a more hands-on experience by experimenting with the conversion of electricity into various forms.
Features
Do It Yourself Electric Energy Conversion
Suitable for age 6 years old and above
Come with everything needed to assemble the project
Batteries are included
Learn and be able to visualize the application possibilities from energy conversion
Packing List
Wooden parts for the circuit platform
Some double-sided tape
Some orange plastic stopper
4 x AA Batteries
1 x AA Battery holder
1 x Colourful circular card
2 x LEDs
1 x Crocodile clip
3 x Screw hook
1 x DC motor
2 x Wire connector
1 x Buzzer