Note:
This is the sample product page for
FUN PROJECT KIT
, one of the finalists with the title of
CUBOT - A micro:bit Cute Mobile Robot
.
Note: The RM1.00 is just to back this project, there will be NO actual product send to you. However, a 50% Discount Coupon Code will be added to your account once the transaction is completed.
Note: Estimated Retail Price for this kit is RM125.00, with a 5% variation.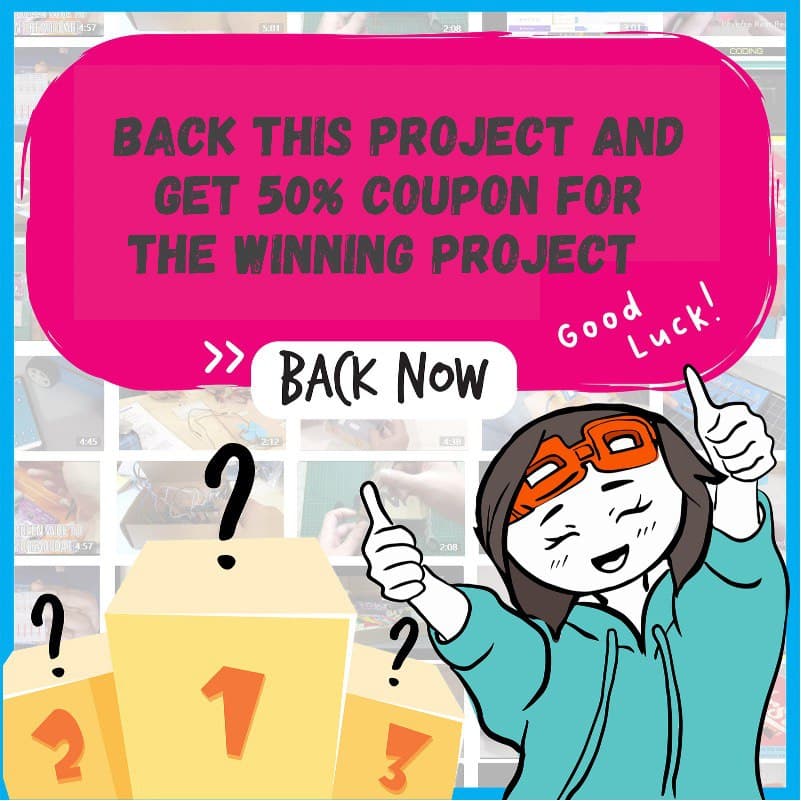 ---
CUBOT - A micro:bit Cute Mobile Robot
WHAT IS CUBOT?

Cubot is a tiny, cute, and yet powerful robot that can sing, move and dance. It's based on microbit v2 as the main microcontroller, packed with digital servo, battery holder, wheel castor, rivets, battery, mini screwdriver, and single micro USB cable. It's a perfect project and affordable for primary school students as a basic kit to learn coding in their class.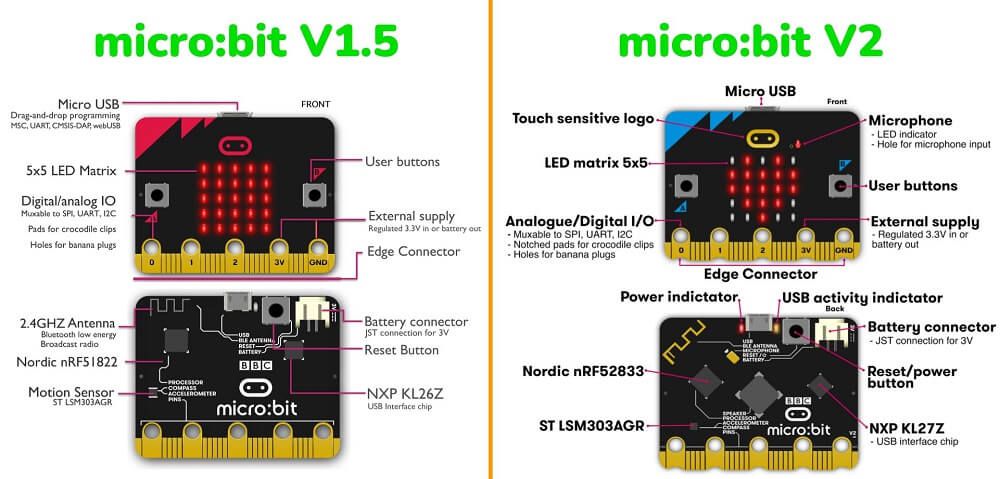 New to coding? Don't worry…

The default project features simple ways of coding to learn such as moving CUBOT forward, backward, and turning around. CUBOT can even emote and sing with the onboard LEDs and piezo speaker. The onboard piezo buzzer is programmable to produce some cool sounds. Combining singing and movement we can make CUBOT dance with a few lines of code. With these new features added in microbit v2, we can program it to even respond to sounds and motions. For advanced coding, we can program it to follow voice commands or follow lines with optional accessories.

Features:
NO soldering
NO glue
ONLY screw and rivets
Everything you want to create a SUPER FUN project is in one box
Designed to be your BEST FRIEND!
Based on micro:bit V2
VARIETY of faces to be chosen
DRAG & DROP coding style, SIMPLE yet understandable coding style
AND comes with a full illustrations manual in color.
Since it's made out of cardboard, CUBOT could be customized with your own designs. Change the face, add some arms, a hat, or anything you like to make CUBOT your very own. The templates included in the links below can help you with your design.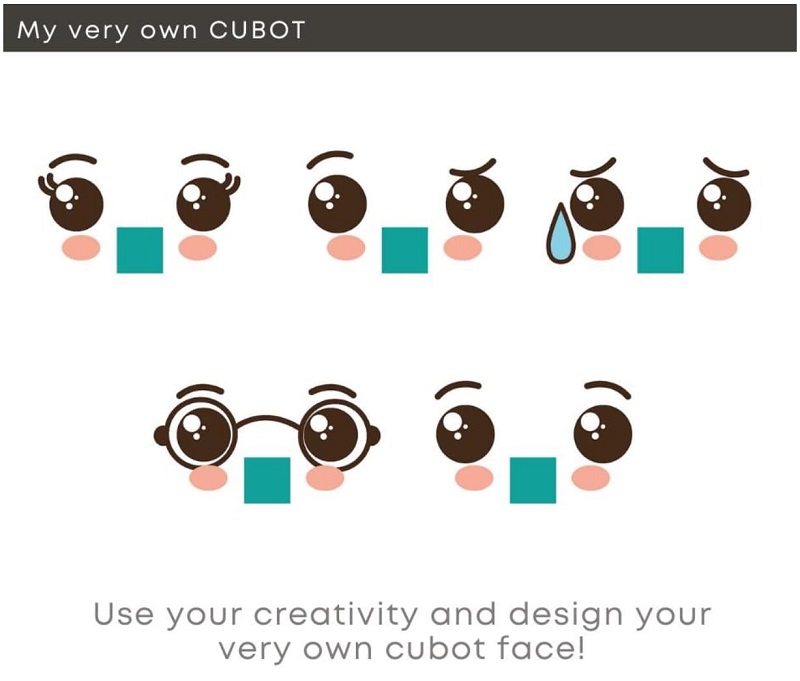 Fully illustrated Manual!

A fully illustrated manual provided with basic instructions for assembling your CUBOT and a few samples of coding.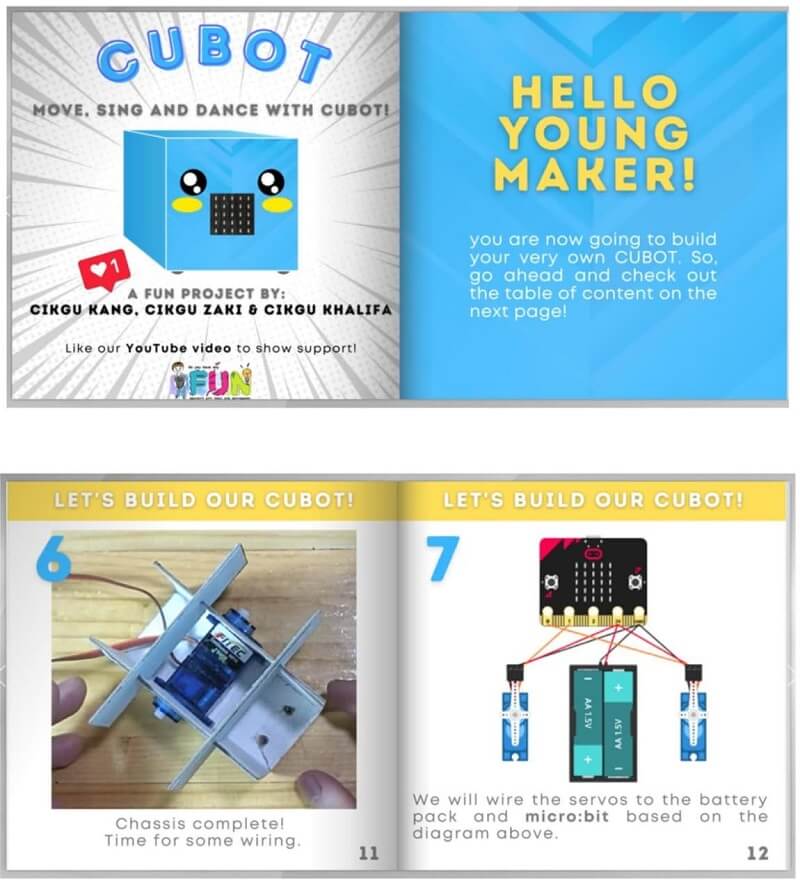 A Simple Way of Coding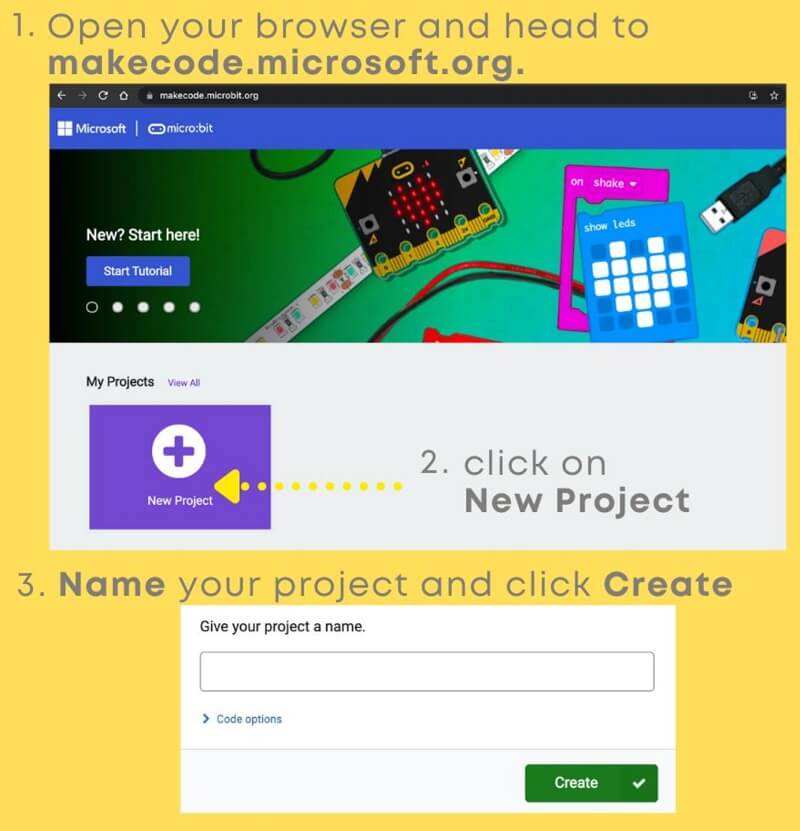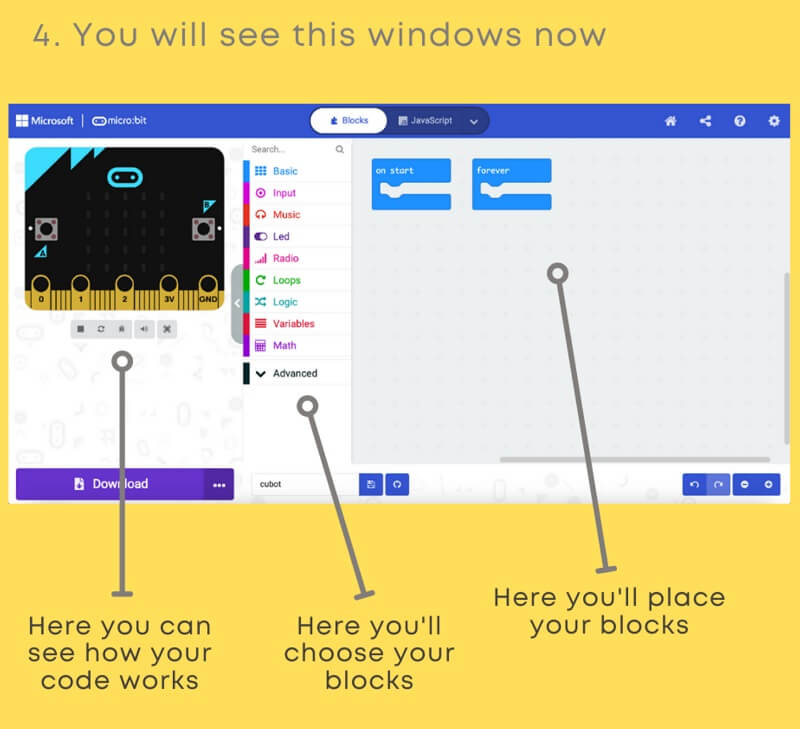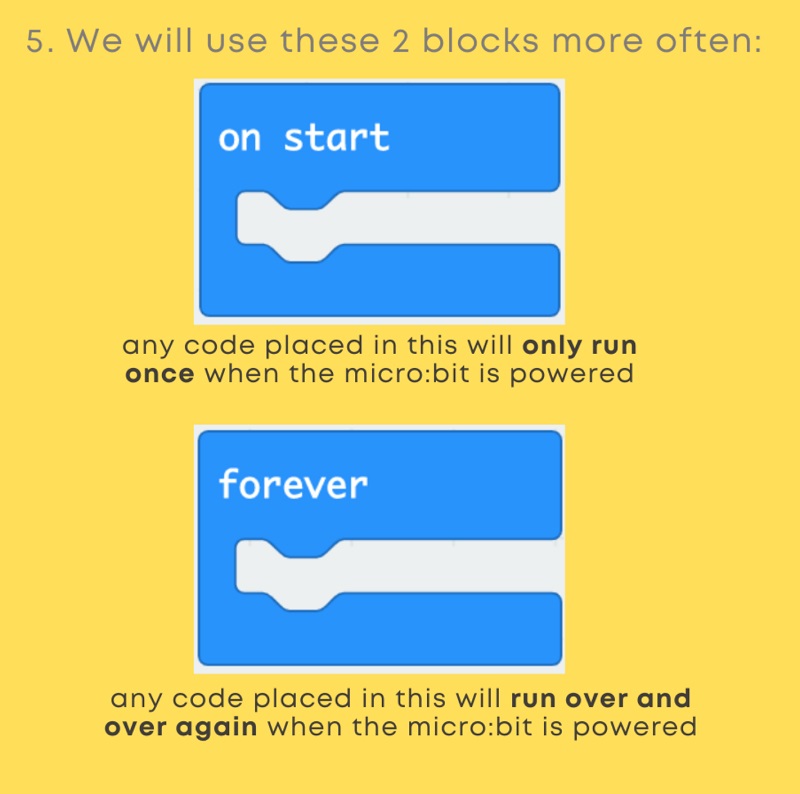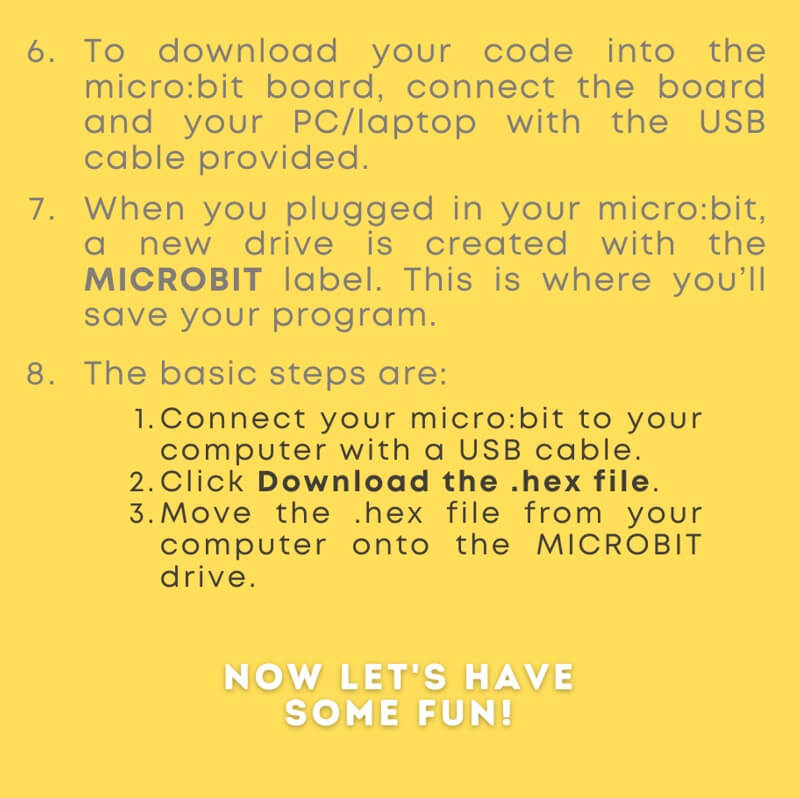 Packing List:
1 x Quick start guide booklet
1 x Box designed to be used in the project
1 x micro:bit v2 Board
2 x 360 Digital Servo(EF90D)
2 x Wheel
1 x 2x AA Battery Holder with Switch
1 x USB micro cable
1 x wheel caster
1 x screwdriver
6 x white rivet
2 x AA battery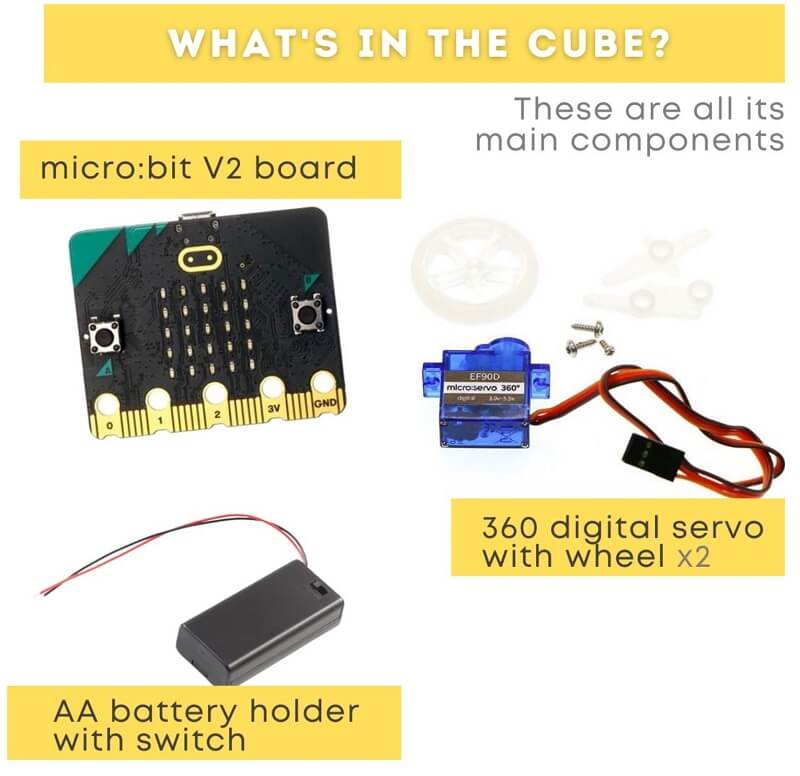 Documents / Resources: