The Most Popular 3D Printer NOW at AFFORDABLE PRICE!
Now comes in Bundles!
NOTE: Ready Stock and Ship from Malaysia.

From 1st December 2020 onwards, the Ender-3 3D Printer Kit from Cytron Technologies comes with a 32-bit Controller board. V4.2.2 with STM32F103F ARM Controller (NON-SILENT stepper driver). It works out of the box, firmware update is not necessary.
NOTE: Please make sure the Voltage Setting for the Power Supply is 230V for Malaysia, Singapore, and Thailand.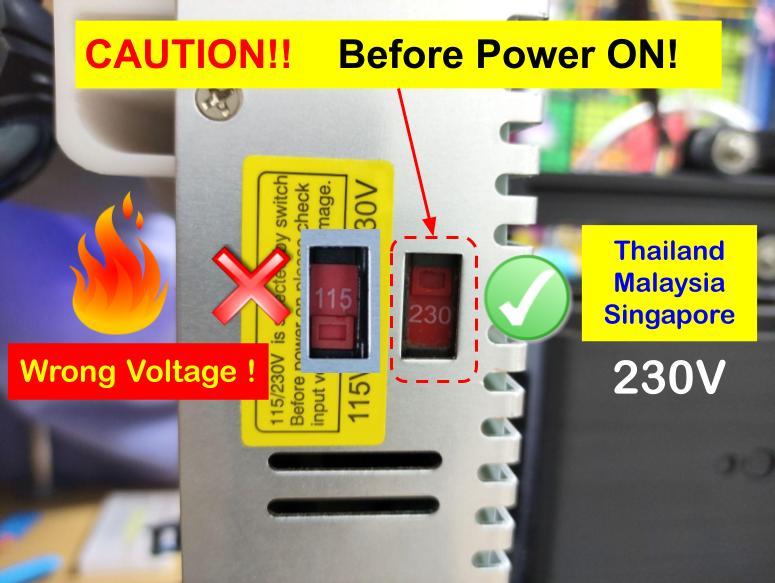 Note: Only Ender-3 3D Printer kits from Cytron Technologies, the plastic extruder is upgraded to MK8 Aluminum extruder for more robust and long hours of filament extrusion.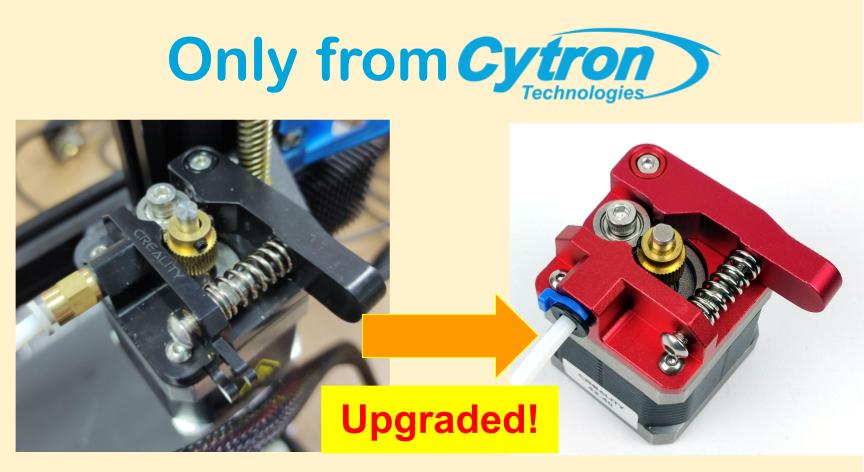 Check out how the young maker Jayden unbox and assemble the Ender-3 3D Printer:
Not sure where or how to start? You can start by being a part of our 3D Printing Community!

Creality3D Ender3 3D Printer needs no introduction. It is one of the most popular DIY Open Source 3D printers in the world! More than 600,000 units being shipped and it is Global Bestselling Ender-3 Series In 2020.
This kit comes in loose parts (partially) and you need to assemble it yourself! So please make sure you can do it and want to do it :) Of course, we are here to help you. Do check this video for the unboxing, build, and 1st print by CHEP (Uploaded 28Feb2020):
We also love this video from Michael that shows you how to assemble, tour, slicing (software), bed leveling, and first print: (highly recommend to see):
Creality Ender-3 advantages:
Most Mature FDM Printer in the World: With more than 600,000 units sold worldwide in 2020, there are millions of videos, forum threads, articles, supports for Ender-3. So join the big family of 3D Printing using Ender-3!
FULLY OPEN SOURCE: Creality 3D is working with its wonderful community of users and contributors to improve this open-sourced product every day. A design is culminating from some of the best and brightest minds in the 3D printing world.
HIGH-POWERED, SAFE POWER SUPPLY: The Ender 3 3D Printer comes with a high-quality power supply, with two separate fuses to protect your printer from unexpected power surges, that can heat the build surface to 90*C in just 5 minutes!
PARTIALLY-ASSEMBLED KIT: The lower base and all wiring completed in our factory. This kit-style 3D printer comes with all tools included and is a great project for middle school and high school-aged students. The perfect gift to spark a lifelong love for science and engineering, and provide a deeper understanding of machinery and robotics!
32-Bit ARM Motherboard: Upgraded from 8-bit to 32-bit ARM STM32F103F ARM Controller with NON-SILENT stepper driver. This upgrade is on the batch starting from 1st December 2020. Now comes with V4.2.2 black color PCB motherboard. It works out of the box,
Resume Printing after power-off: ender three could resume prints after a power outage or lapse occurs
Easy and Quick Assembly: Though many claims it only requires only 10 minutes with 20 screws assembly before the first printing, from our experience, it may take 1 to 2 hours of assembly work depending on your skill level :) Yet, once it is assembled and calibrated it is worth the time and learning, Win-Win for fun and time.
ONLY Ender-3 Kit from Cytron Technologies - The plastic extruder is upgraded to Aluminum Extruder out of the box. IT will last longer and offers long hours of stable filament extrusion.
Reach 110℃ for hotbed in about 5 minutes, meet the needs of fast heating and printing ABS
CNC machining of the Y-rail mounting groove to make sure precise positioning and keep the solid frame with the high-precision printing quality. And big hand twist nut, make the print platform easier to level.
Parameters:
Modeling Technology: FDM(Fused Deposition Modeling)
Printing Size: 220x220x250mm
Machine Size: 440x410x465mm
Package Weight: 8.5kg
Max Traveling Speed: 180mm/s
Filament: 1.75mm PLA, TPU, ABS
Input: AC 100-265V 50-60Hz
Output: DC 24V 15A 360W
Layer Thickness: 0.1-0.4mm
Nozzle diameter: 0.4mm
Precision: ±0.1mm
File Format: STL, OBJ, G-Code
Working Mode: Online or SD card offline
Max Nozzle Temperature: 255℃
Max Hot bed Temperature: 110℃
Features:
Brand: Creality3D 
Type: Do It Yourself Assembly (DIY)
Model: Ender-3 
Best budget 3D Printer in the market with large printing size/area/volume
24VDC powered offering faster heat-up time
Power resume function, cope with sudden power cut off
Upgraded to 32-bit ARM Controller Motherboard with Non-Silent Driver, from 1st December 2020 onwards
Removeable and bendable build plate, so you won't ruin y-axis off
The assembly process is just around 1 hour, it is faster than assemble some DIY furniture
You will learn how to fix it through the assembly process
Ender-3 is OSHW (Open Source Hardware) Certified. You can get the Ender 3 design, firmware files here (Github)
Due to Open Source, you are free to upgrade or use it as your college research project. (Of course, any upgrades is not covered under warranty)
Engraving Accuracy: 0.1mm 
Packing Type: unassembled packing
Cartesian: i3 Style aka X and Z on head, Y on bed
Single extrusion with Bowden extruder
Upgraded to Aluminum MK8 extruder for long-lasting and reliable filament extrusion, for Ender 3 from Cytron Technologies only
V-slot with POM wheel makes it move noiseless, smoothly, and durable
The one-piece structure provides a large printing size 
The semi-knockdown package ensures quick assemble 
Safely protected power supply, reaching 110ºC in about 5 minutes
Additional power cut protection function to meet the needs of fast heating and longtime printing
CNC machining of Y - rail mounting groove to ensure precise positioning and printing quality
New viscose platform sticker solves the warping problem
Comes with UK Plug (Type G) for Malaysia and Singapore use
Note: Please read and follow the user manual carefully before you assemble or operate the 3D printer. 
Modification and customization of the 3D printer are allowed but we will take no responsibility for any problems resulting from modifications.
Always use the correct AC voltage for your region.
Please do not place the 3D printer near flammable/combustible materials, or any heat sources.
Use the 3D printer only in properly ventilated areas. Maintain a safe distance from the printer.
Because it is a Do It Yourself (DIY) kit, the warranty does not cover the damage during assembly.
If any parts come with a manufacturing defect, please let us know, we will replace them.
If it is just minor scratches, please accept them as they won't affect the printer functionality.
Ender-3 from Cytron Technologies is upgraded with an aluminum MK8 extruder for long-lasting and reliable filament extrusion. So mind the changes in the packing list. The extra spare couplers which come with the plastic extruder are not included anymore.
Ender 3 + 200G PLA Filament (Free)
1 x Base Frame (partially assembled)
1 x Switching Power Supply with UK Plug Power Cord
1 x Ender Display Panel
1 x Stepper Motor for the Z-axis
2 x Big Size Aluminum Profile
2 x Small Size Aluminum Profile
1 x Screw Rod
1 x Z Passive Block, * plastic extruder is upgraded to aluminum MK8 extruder (assembled) on Z passive block
1 x X Kit
1 x Filament Holder
1 x Spatula
1 x Assemble Tools
1 x Printed Assembly Guide
1 x 200G PLA Filament (FREE)
Ender 3 + Filament + Spring Packing List:
1 x Base Frame (partially assembled)
1 x Switching Power Supply with UK Plug Power Cord
1 x Ender Display Panel
1 x Stepper Motor for the Z-axis
2 x Big Size Aluminum Profile
2 x Small Size Aluminum Profile
1 x Screw Rod
1 x Z Passive Block, * plastic extruder is upgraded to aluminum MK8 extruder (assembled) on Z passive block
1 x X Kit
1 x Filament Holder
1 x Spatula
1 x Assemble Tools
1 x Printed Assembly Guide
1 x 1KG 1.75mm PLA Filament (Random Colour)
Ender 3 + BLTouch + Filament + Spring Packing List:
1 x Base Frame (partially assembled)
1 x Switching Power Supply with UK Plug Power Cord
1 x Ender Display Panel
1 x Stepper Motor for the Z-axis
2 x Big Size Aluminum Profile
2 x Small Size Aluminum Profile
1 x Screw Rod
1 x Z Passive Block, * plastic extruder is upgraded to aluminum MK8 extruder (assembled) on Z passive block
1 x X Kit
1 x Filament Holder
1 x Spatula
1 x Assemble Tools
1 x Printed Assembly Guide
1 x 1KG 1.75mm PLA Filament (Random Colour)
1 x BLTouch v3.1 Kit Set + Ender 3 Bracket
Note: Since the plastic extruder is upgraded, the spare parts for it is replaced with the spare parts for the aluminum extruder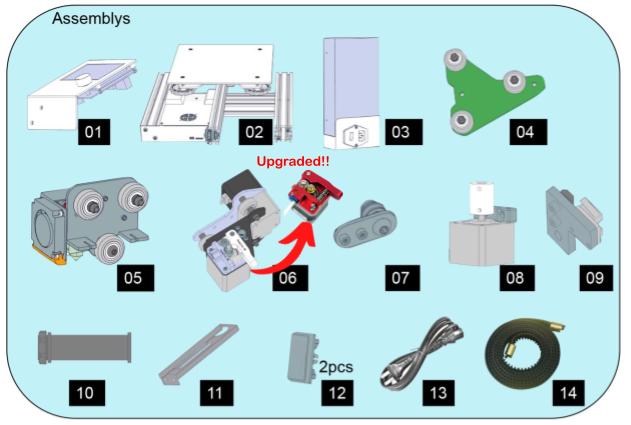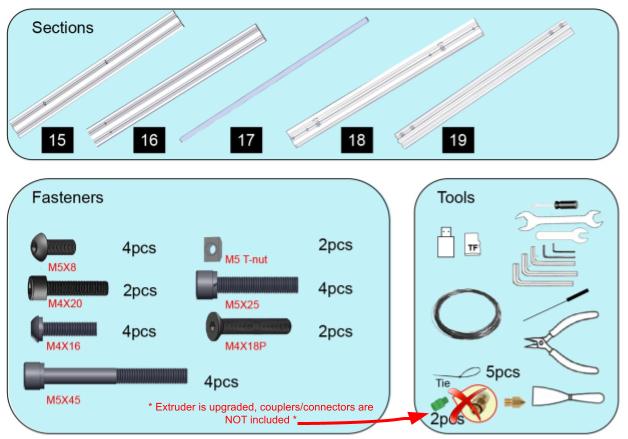 Resources:
Assembly Guide from Creality for Ender-3, more detailed than the printed copy
Download page for Ender-3 from Official Creality 3D, including Laser Software, Firmware Installation Guide, BLTouch Guide Book, Laser Engraver software install step, Auto Leveling Instruction Tutorial, and Creality Ender-3 Offical Assemble Guide.
3D Printer Troubleshooting Guide, by MatterHackers
Creality Distributor Certificate, this is a genuine Ender-3 DIY 3D Printer kit
Special face shield STL file, adjusted by KakiDIY.
Ender-3 Live Build by Maker's Muse Live, around 1 hour 40 minutes:
Updated Creality Ender 3 Performance Assembly Build Section 1.1 (Posted 27 February 2019) by Luke Hatfield:
Ender-3 PRO Troubleshooting by Creality 3D, although it is meant for Ender-3 PRO, it should be applicable to Ender-3 too:
Check out the explanation from Micheal from the Teaching Tech channel about this new 32-bit board:
Johnson Lam from KakiDIY perform a sound comparison between the 8-bit controller board (V1.1.4), 32-bit controller board (V4.2.2), and another 32-bit controller board on Ender-3 V2 (V4.2.7):
Note: From 10th March 2020 onwards, ONLY from Cytron Technologies, Ender-3 is upgraded with MK8 Aluminum Extruder for more durable and robust filament extrusion. Check out the explanation from Johnson Lam of KakiDIY talking about the new coupler of this Aluminum Extruder:
Another video on how to get started with 3D Printing by Chuck of Filament Friday:
Johnson Lam from KakiDIY has also done a 20 minutes assembly video (Ender-3):
Total Reviews (166)
5

92.77%

4

6.02%

3

0.6%

2

0.6%

1

0%