Description
Note: The CR1220 Coin Cell and Dual-band external Antenna are NOT pre-installed.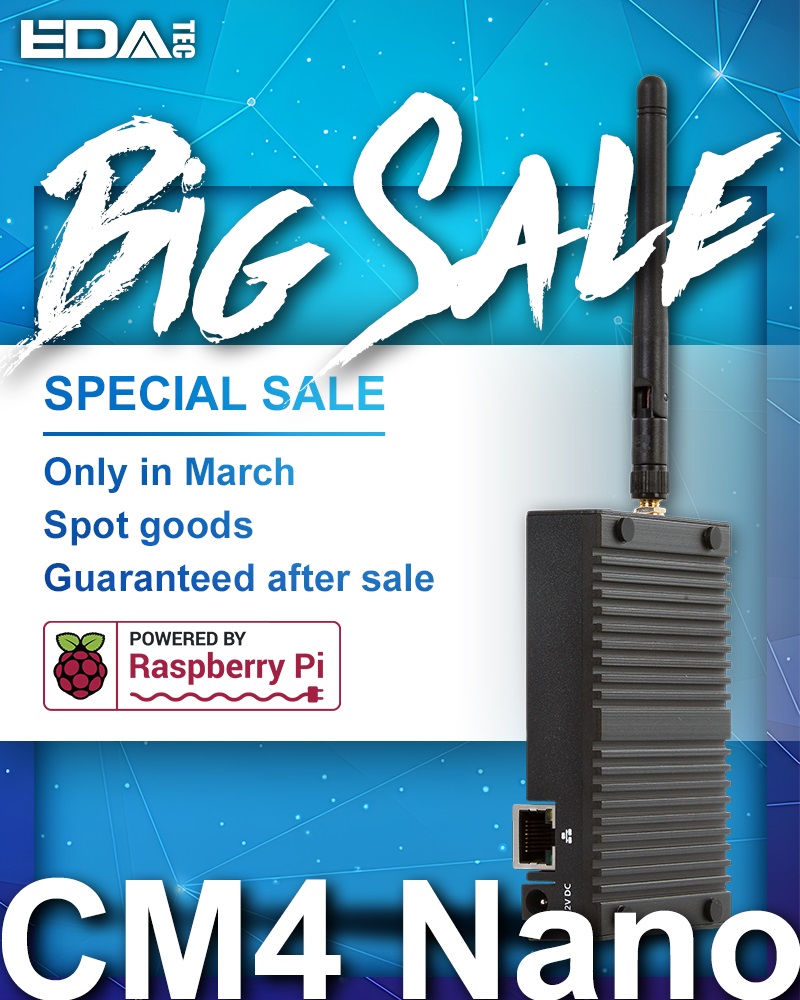 ---
CM4 Nano is an embedded computer designed for industrial applications powered by Raspberry Pi Compute Module 4. It's designed to be more compatible with Raspberry Pi 4 Model B but with industrial applications enhanced.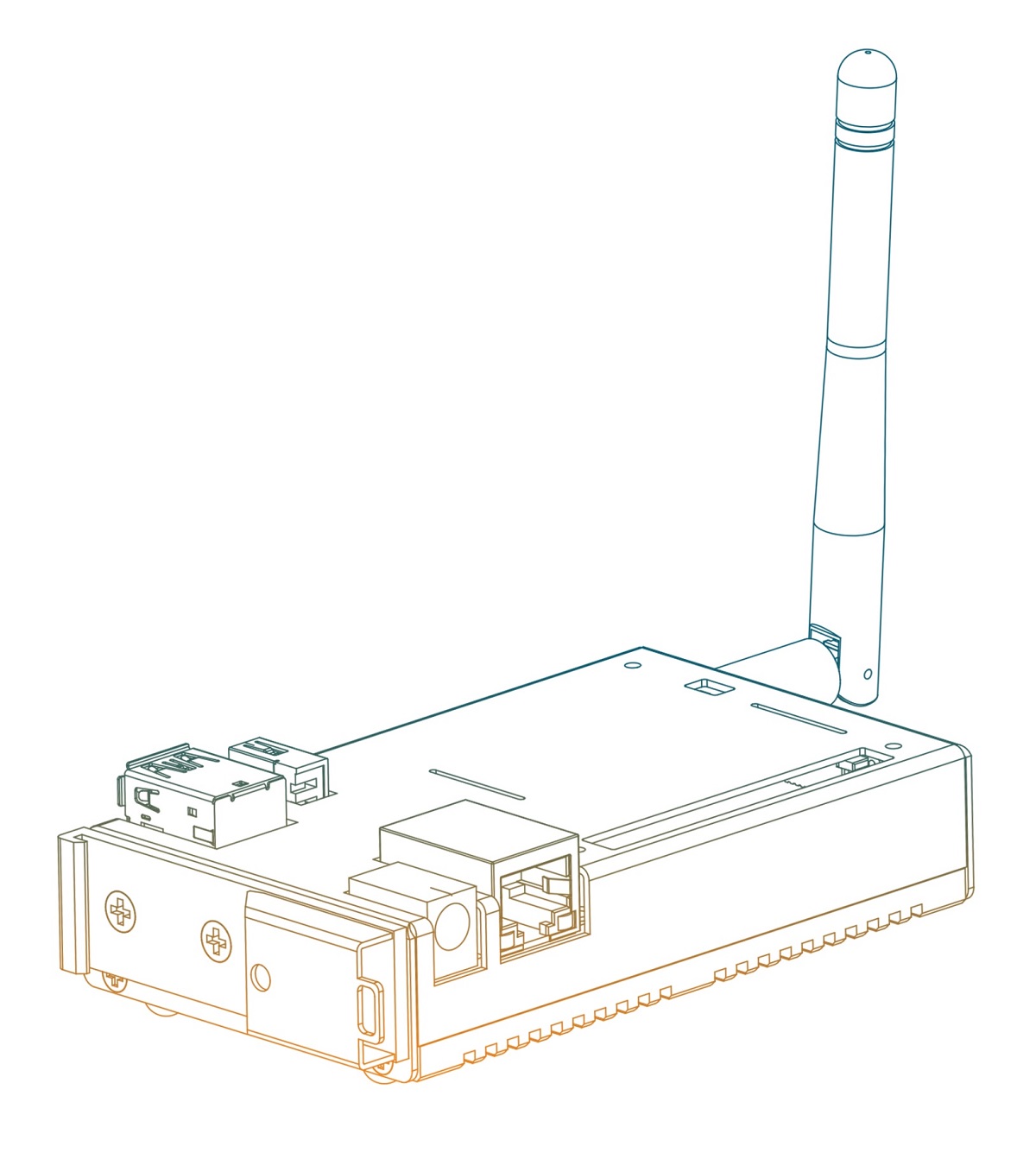 It makes full use of the structural flexibility of CM4 to solve the heat dissipation problem of the CPU, wireless module, and PMU (Power Management Unit). The external dual-band antenna improves the wireless connection reliability and communication range, expanding the possible applications and capabilities.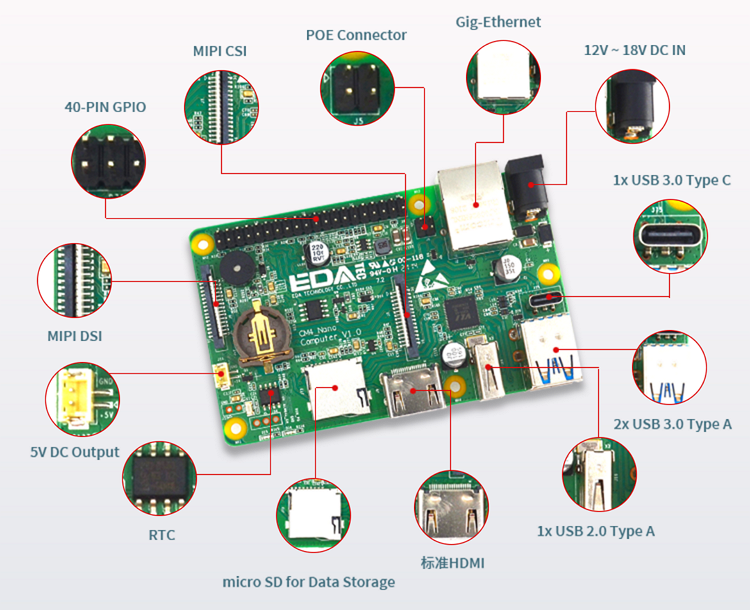 The CM4 Nano can be configured into 8GB/4GB/2GB/1GB RAM and 32GB/16GB/8GB eMMC, 2.4/5.8GHz dual-band WiFi, and Bluetooth according to the different applications, and it comes with an external antenna. This model comes with 2GB RAM and 8GB of eMMC, and built-in wireless with an external antenna. For applications that require larger data storage, the user can always run the Operating System from the eMMC and store data using a microSD card. Yes, the microSD card can be used to expand the storage capacity if it is needed. Compared to the built-in eMMC, the microSD card offer a larger capacity, flexibility to choose and upgrade capacity, and it is more cost-effective.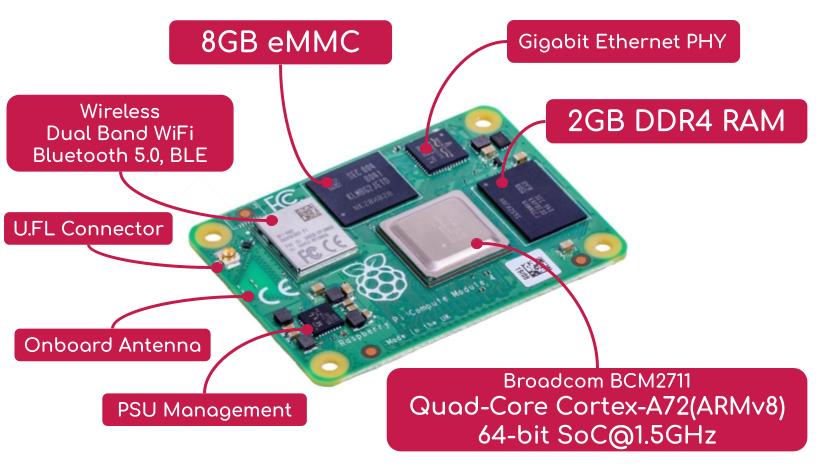 The CM4 Nano comes with a built-in alarm buzzer, CR1220 coin cell battery-powered real-time clock (RTC), a true Gigabit Ethernet port (RJ45) with PoE function (requires additional PoE HAT), which is compatible with the official Raspberry Pi PoE HAT. 
Note: CR1220 is NOT pre-installed due to shipping/courier restrictions. Manual installation of CR1220 is necessary.
The CSI and DSI interfaces of CM4 Nano are fully compatible with Raspberry Pi 4 Model B. The CSI supports Raspberry Pi 8MP and 12MP HQ camera modules. While the DSI port also supports the Raspberry Pi 7" touch display. The full-size HDMI port is capable of 4K HD video output. Besides the multimedia output, CM4 Nano also comes with 2 x USB3.0 ports and 1 x USB2.0 port for USB devices, for example, mouse, keyboard, joystick, or even USB stick. The USB 2.0 port can be used to update the system image in the CM4's eMMC.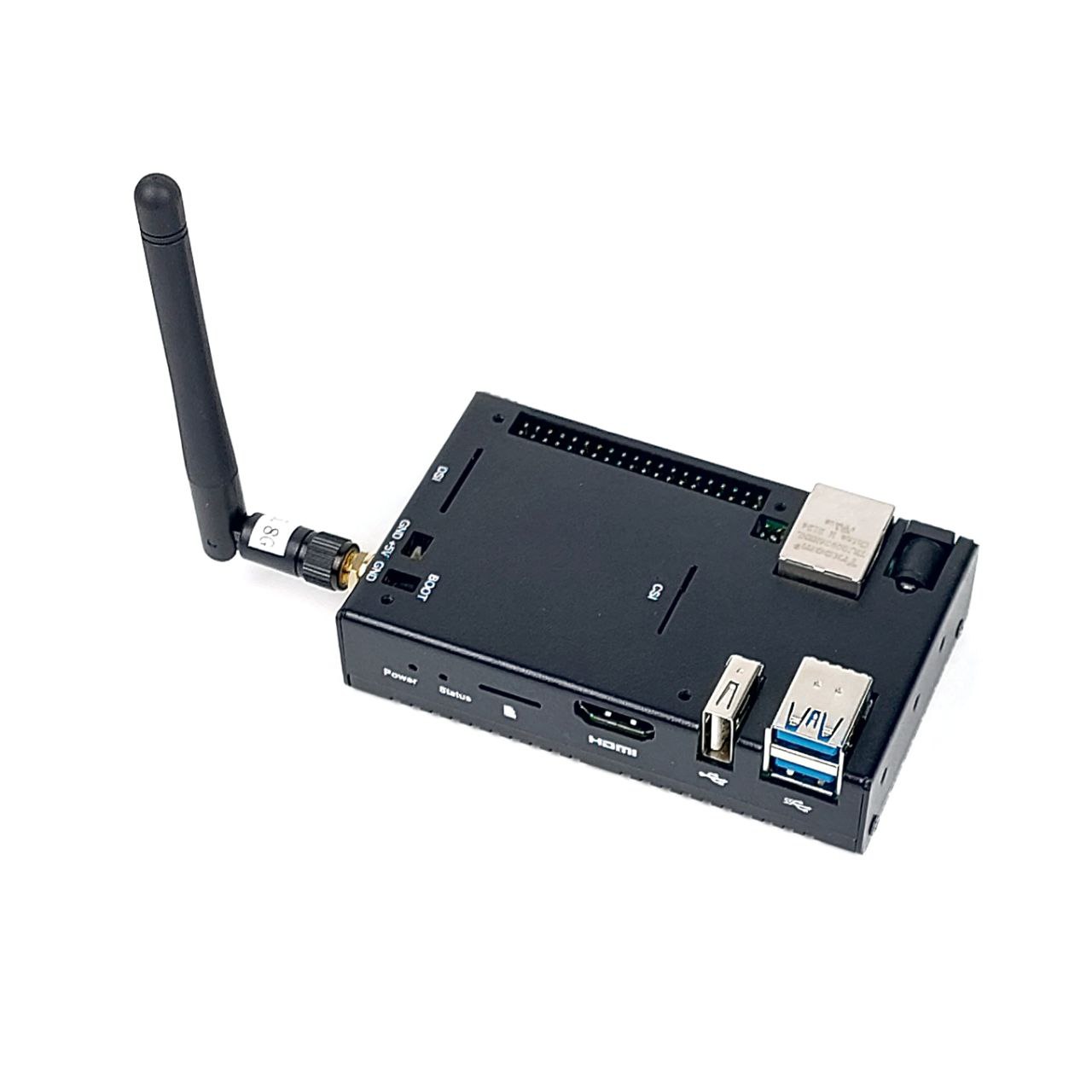 One of the special features of CM4 Nano is the 40-pin GPIO headers. It supports a standard Raspberry Pi 40-pin expansion interface, the HAT (Hardware Attached of Top).
CM4 Nano can be powered via the DC Barrel Jack (5.5x2.1mm) supporting +12 to 18VDC. While the 5V pins at 40-pin headers can provide a maximum current of up to 2A, and the 3.3V pin can output a maximum current of 1.5A. These may support high-power expansion modules.
The dimension of the CM4 Nano PCB is 95 x 58 mm, slightly larger than the Raspberry Pi 4 Model B. The interface connectors (Ethernet, USB, HDMI, Power input, microSD card slot, etc) are arranged at the front and back of the enclosure, making easier cable management. A 103 x 62 x 5 mm aluminum heatsink provides excellent passive (fanless) cooling for the CPU, wireless module, and PMU (Power Management Unit), the whole system can work reliably in a high-temperature environment. Based on the real testing in the laboratory, the CM4 Nano can work reliably at the ambient temperature of -25ºC to 60ºC.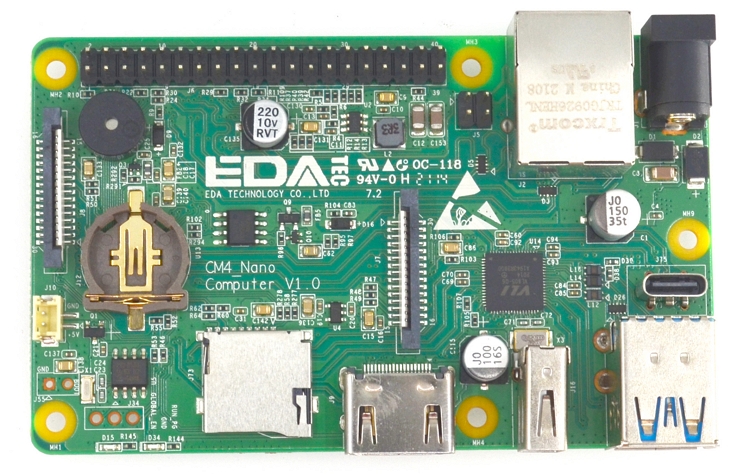 The 4 x M.5 screw holes at the bottom of the enclosure are reserved for mounting purposes. They will come in handy when the user needs to mount the CM4 Nano to other equipment. It also supports DIN rail mounting, but a separate DIN rail socket is needed.
Features
Industry Ready Solution with Raspberry Pi Compute Module 4 that comes with Wireless (WiFi and Bluetooth), 2GB RAM, and 8GB eMMC.
Model: ED-CM4NANO-10-1208-C
Powered by Raspberry Pi CM4 with a mature software ecosystem.
Dual Storage with eMMC and microSD card for data storage.
Full Coverage Network with Gigabit Ethernet, Dual-band WiFi, and Bluetooth.
Comes with a dual-band external antenna for better wireless performance.
2 x USB3.0 Port, 1 x USB2.0 Port
Ready with Raspberry Pi Compatible 40-pin Headers and support PoE (require additional PoE HAT).
Compact, Beautiful, and ready with an excellent passive cooling system.
Specifications:
Powered by Raspberry Pi Compute Module 4
Processor: Broadcom BCM2711, Quad-core Cortex-A72 (ARM v8), 64-bit SoC, clocked at 1.5GHz
RAM: LPDDR4-3200 2GB SDRAM, built-in on CM4
Storage: 8GB eMMC on CM4 for system boot, expandable with microSD card
Video:

H.265 (HEVC, up to 4Kp60 decode)
H.264 (up to 1080p60 decode, 1080p30 encode)
OpenGL ES 3.1
Vulkan 1.0

Display interface:

1 x standard HDMI output (Type A)
1 x FPC DSI touch display

Wired Interface:

1 x Gigabit Ethernet (10/100/1000M)
2 x USB 3.0 Type-A
1 x USB 2.0 Type-A (can be used to access eMMC on CM4)

Wireless:

Ready with Dual-band WiFi (2.4GHz and 5GHz), IEEE 802.11 b/g/n/ac
Ready with Bluetooth 5.0 and BLE
Ready with a Dual-band external antenna

1 x RTC with coin cell battery backup (CR1220 battery is not pre-installed)
1 x Buzzer
1 x Raspberry Pi Compatible 40-pin Headers
Power In:

12 ~ 18VDC
DC Barrel Jack (5.5x2.1mm)

Indicator:

1 x Power Indicator with Red LED
1 x Status Indicator with Green LED

Operating Temperature Range: -25ºC to 60ºC
Enclosure/Case: Metal Case with the bottom of aluminum alloy heatsink
Mounting Options:

Tabletop Placement
4 x M2.5 screw hole at the bottom
Optional DIN mount, a separate DIN socket is needed

Operating System:

Pre-installed with 32-bit Raspberry Pi OS with Desktop in eMMC
Compatible with Original Raspberry Pi OS supports 32-bit and 64-bit OS and supports Lite and Desktop versions.
Support BSP online install/upgrade

Dimension: 103 (L) x 62 (W) x 26.5 (H) mm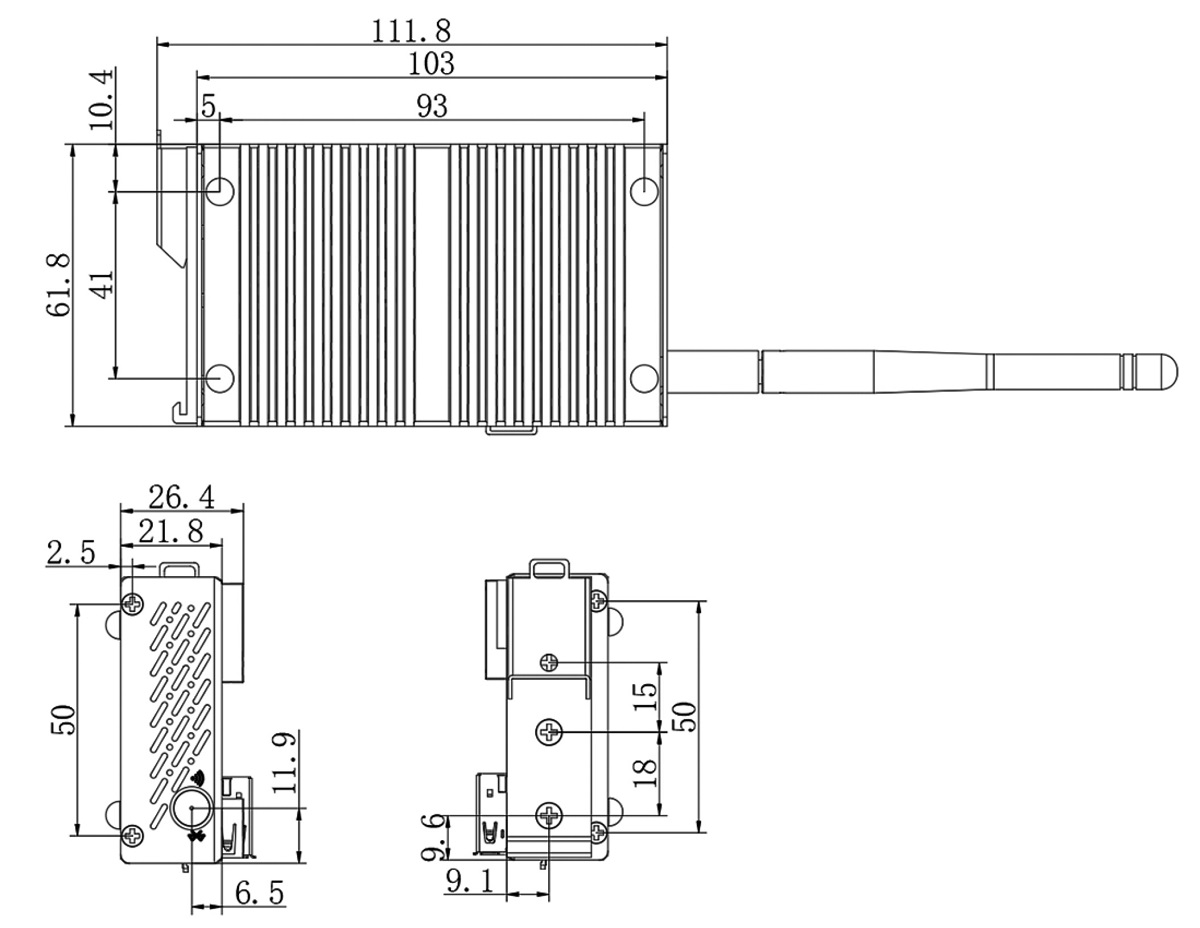 Note: The CM4 Nano does not come with DIN mount bracket/socket.
Packing List
1 x CM4 NANO with CM4 Wireless, 2GB RAM, and 8GB eMMC
1 x Dual-band External Antenna
FREE:

1 x CR1220 Coin Cell Battery