micro:bit is a pocket-sized microcontroller designed for kids and beginners to learn coding and electronics, letting them easily bring ideas into DIY digital games, interactive projects and robotics. Boson Kit has been awarded Five Stars in the 2018 Teach Primary Resource Awards.

Micro:bit
To explore even more possibilities with micro:bit, this kit combined it with DFRobot's Boson modules, a set of modularized electronic blocks, suitable for every kids to start their hands-on journeys of creation.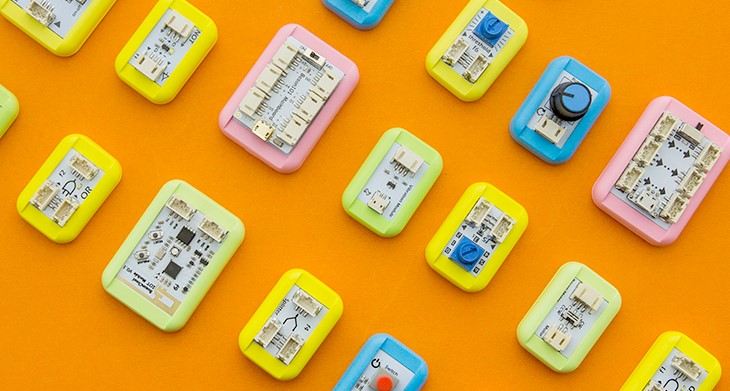 The Boson starter kit for micro:bit includes 8 well selected modules, covering most popular digital and analog sensors and actuators, supporting sound, light and motion interaction. Modules communicates to micro: bit via 3-Pin interface and are perfectly compatible with Microsoft MakeCode JavaScript online Editor and Python Editor.
Click the link to learn more about DFRobot's Boson module
The micro:bit expansion board for Boson is used to hoop up Boson modules to micro:bit. The expansion board comes with an edge connector, 6 fool-proof 3-Pin sockets, a 3.5MM headphone jack and a volume knob. Moreover, to ensure a steady current supply for motor and servo, the expansion board can be powered externally through the USB power port.

Note: USB power port CANNOT be used to upload program.

To help you easily understand the usage of each module, the boson kit for microbit is provided with a quick start guide, including 4 basic projects with wiring and sample codes. Walk through the guide and create your own invention!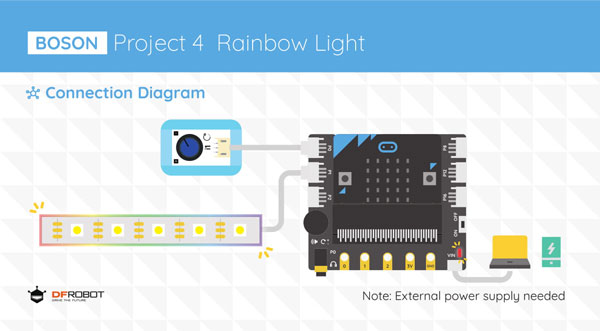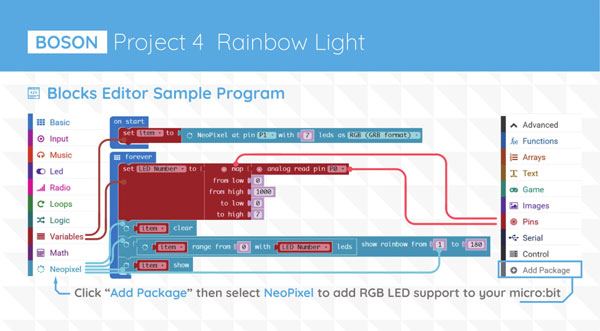 DFRobot Boson Starter Kit для BBC mico:bit
Note: micro:bit is NOT included in the kit. You will need to purchase separately here.
Features:
Cultivates kid's programming ability
Suitable for age 10+
Supports sound, light and motion interaction
Comes with 8 modules, 4 quick start project cards
12-project tutorial from beginning to advance
Specification:
Module Input/output Voltage: 3.3V
Maximum Current: 500mA
MicroUSB Power Port Voltage:5V
Working temperature: 0-60 ℃
package size: 250*190*57 mm/ 9.84 * 7.5 *2.24 inches
Weight: 492g
Documents:
Packing List:
micro:bit expansion board for Boson kit x 1
Red Push Button x 1
Red LED Light x 1
Rotation sensor x 1
Sound Sensor x 1
Motion sensor x 1
Mini Fan Module x 1
Mini Servo x 1
RGB LED strip x 1
Micro USB Cable x 1
3-Pin Cable (Long) x 1
3-Pin Cable (Medium) x 1
3-Pin Cable (Short) x 1
Quick Start guide x 1