Note: Please select the VAC correctly before powering up:
230V is for Malaysia, Singapore
115V is for Thailand, Vietnam
Selecting the wrong voltage will damage the power supply and it is NOT covered under warranty.
---
This is the high-quality, industry-grade, Meanwell AC/DC Single Output Switch Mode Power Supply. It is a single-output enclosed type power supply with 30mm of low profile design. Adopting an input of 115VAC or 230VAC (select by switch), it provides an output voltage of 24VDC at 14.6A (max). It features high efficiency of up to 87.5%. A built-in long-life fan allows LRS-350 to work from -30°C to +70°C with a full load. Delivering an extremely low no-load power consumption (less than 0.75W), LRS-350 allows the end system to easily meet the worldwide energy requirement. This power supply has complete protection functions and 5G anti-vibration capability.
It is a perfect upgrade of power supply for your Ender Series 3D printers! For your information, Ender-3 PRO and Ender-3 V2 are using this power supply.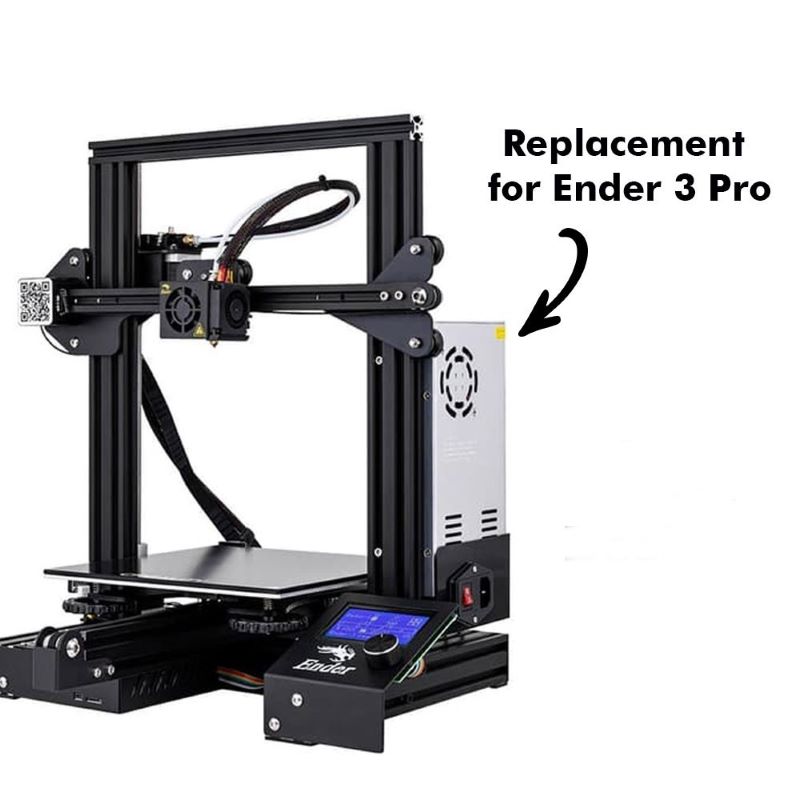 Not sure how to install it to your 3D printer? Check out this video here that demonstrates how you should install the Meanwell PSU to your Ender 3:
Take note that if you're upgrading your Ender 3 Power Supply Unit (PSU) to this version, you will need to replace the PSU base. Luckily you can print it with your 3D printer with this STL file here. 
Features and specifications:
AC input range selectable by switch. Select carefully, a wrong selection will damage the power supply and it is not covered under warranty.

230V is for Malaysia, Singapore
115V is for Thailand, Vietnam

Withstand 300VAC surge input for 5 second
Protections:Short circuit / Overload / Over voltage / Over temperature
Forced air cooling by built-in DC fan
Built-in cooling Fan ON-OFF fan
1U low profile
Withstand 5G vibration test
LED indicator for power on
No-load power consumption less than 0.75W
High operating temperature, up to 70℃
Operating altitude up to 5000 meters
High efficiency, long life, and high reliability
Output Voltage: 24VDC
Output current: 14.6A
Maximum output power: 350W
Input voltage: 90V to 132V, 180V to 264V
Input frequency: 47 to 63Hz
Output connector type: Screw terminal block
Number of outputs: 1
Product type: AC to DC power supply
Efficiency: 88%
Operating temperature: -25°C to +70°C
Dimension: 215 x 115 x 30 mm
Colour: Silver
Style: Enclosed
Note: Please check the voltage switch before use. Make sure the voltage is correct. Else, the power supply will be damaged.
Packing list:
1 x 350W Industry Switching Power Supply 24V 14.6A
1 x Bracket and screw set
Resources: